Our roads are being named after pop stars, discovers Tony Barrell
THE SUNDAY TIMES, 2007
Do you live in Acacia Avenue or Rolling Stones Crescent? Honeysuckle Lane or Beyoncé Road? You'd better look out of the window, check that there aren't men in overalls unscrewing the street signs right now. Because lately there is a particularly catchy strain of urban blight sweeping the world, as previously unremarkable roads, alleys and boulevards are renamed after pop icons.
In the summer of 2007, Street 13 on the eastern outskirts of Berlin was reopened as Frank-Zappa-Strasse, or Frank Zappa Street, to commemorate the offbeat American rocker who died in 1993. The renaming was the result of a campaign by a local leftist arts collective, Orwo Haus, who said they admired Zappa because "he was without taboos, musically versatile, provocative, and didn't allow himself to be captured by capitalist enterprises". They were probably also fond of his distinctive moustache.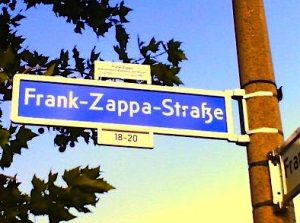 The year 2006 brought similar good news for reggae fans. The late Bob Marley need no longer wait in vain for his own street, having been awarded Bob Marley Boulevard in Brooklyn. Zappa and Marley join a galaxy of stars, living and dead, who have already been deemed roadworthy. The late James Brown has a boulevard in his birthplace of Augusta, Georgia. Ramones fans can pogo around Joey Ramone Place in New York City. Canada's best-known female belter has Boulévard Celine-Dion in her home town of Charlemagne, Quebec. And then there's our own Sir Cliff, who has Rua Sir Cliff Richard in Albufeira, Portugal.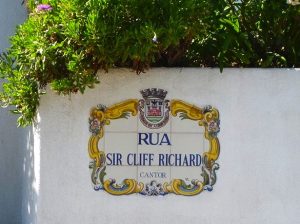 Now whole bands are getting in on the act. In 2006 an alley in Oklahoma City adopted the name of its beloved sons, the Flaming Lips. The band's lead singer, Wayne Coyne, has even suggested that fans give the alley a special makeover. "I could see people sneaking in during the middle of the night doing graffiti art," he announced. "I can see all kinds of strange things going on there." A few months earlier, the nu-metal band Korn made do with a grimy little stretch in their home city of Bakersfield, California. This was the idea of the manager of a neighbouring arena: the choice of an access road rather than a fully fledged street meant that they didn't have to obtain approval from the city authorities. Displaying the calibre of wit usually reserved for hairdressing salons, they called it Korn Row.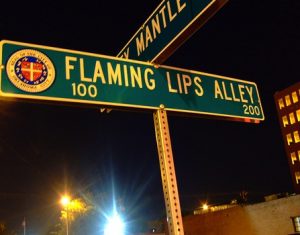 Rather than sit back and wait for a spontaneous urban renaming ceremony, stars can take the charity route. Jay-Z now has his own thoroughfare in Nigeria, in return for the work the rapper has done to raise awareness of the African water crisis. And thanks to his own generosity – a donation of $1m – Jon Bon Jovi now has Bon Jovi Boulevard in Houma, Louisiana, which has housed some of the folks made homeless by Hurricane Katrina.
Joe Strummer, who sang 'London's Burning', surely deserves his own fire station at the very least
America is the leader of the pop renaming trend, but you can't always count on the Land of the Free for musical justice. Melinda Doolittle, an unsuccessful finalist on American Idol, has been blessed with her own street in Nashville; meanwhile, in Seattle, requests to commemorate Jimi Hendrix with a street in his home city have fallen on deaf ears. While Britain lags behind America in terms of starry streets, things are surely set to change as more pop stars die and more flower children and punk rockers reach the highest echelons of municipal planning. Liverpool's John Lennon airport may only be the beginning. Joe Strummer, the man who sang 'London's Burning', surely deserves his own fire station at the very least.
Certain names won't work. Few citizens want to see Garbage Road or Megadeth Mews on their envelopes
Some acts are lucky, having such common names that they already appear to have many eponymous streets. Robert Smith of the Cure could, if he chose to, feel a pang of artificial pride as he strolled down Smith Street or sashayed around Smith Square. And there are countless Jackson Streets in the USA, none of them named after the little boy from Indiana with the fading skin tones and detachable nose.
There are certain names, of course, that just won't work. Few citizens want to see Garbage Road or Megadeth Mews on their envelopes. But worse has happened: in 2001, the people of Anthrax Street in Fayetteville, North Carolina, suddenly decided they didn't care for their address. The name had been approved five years earlier, after a suggestion by a local-authority employee who was apparently keen on the thrash-metal band Anthrax, and it seems the residents only noticed the negative connotations when there was a fuss about terrorists sending the disease through the post. The following year, the Anthrax Street signs came down and it became Allegiance Avenue. But the joke's on Fayetteville again: Allegiance is an old Australian metal band. ♦
© 2014 Tony Barrell
Tony Barrell's new book, The Beatles on the Roof, is out now in the UK. More information here.