A newly discovered 1971 rejection letter to Roxy Music nearly broke the internet in April 2021. Tony Barrell confesses that he wrote it 'for a laugh'
MAY 2021
For several years I have played April Fools' Day pranks on my fellow Roxy Music fans. These usually raise some chuckles and take a few dozen people in. This year, something unexpected happened: my little joke went viral and was swallowed whole by many people in the music industry.
I had decided to illustrate the difficult early days of Roxy Music, when the band were sending out demo tapes to record companies and receiving precious little attention. I fabricated a 1971 letter (pictured) from a snooty A&R man at Polydor Records, a fictitious Hugh C Smith, who damned their music at length. I had a lot of fun with the letter, and tried to make it entertaining and almost believable. I enjoyed the irony that Polydor had actually signed Roxy and their former member Brian Eno to the label later in the 1970s.
On the morning of the first day of April, I posted four photographs of the hoax letter on Facebook – three on Roxy fan pages, and one on a Brian Eno fan page. I smiled as the fans commented, some believing it to be authentic and others amused by the humour. Fans of Roxy Music and Eno tend to be smart people, so the disbelievers easily outnumbered the believers. But I was unprepared for what happened the next day, when I was informed that the drummer Chris Frantz of Talking Heads had shared the letter on Twitter, and it had officially "gone viral".
Dozens of commenters held it up as a choice example of a cloth-eared record company failing to recognise true talent and innovation. The music-book publisher Lee Brackstone took a deep breath and called it "A stinging reminder… for any gatekeepers in arts, literature and music, that to dismiss something on the grounds of it being 'too experimental' is extremely stupid."
Some smart cookies saw through it. Tom Robinson said: "Nice Photoshop work by someone…" Danny Baker quipped: "To quote For Your Pleasure, 'Bogus, man…'" The former Q magazine writer David Quantick noted: "People want it to be real, I suppose. I saw on Facebook an actual ex-employee of 1970s Polydor saying it was typical of the label at the time." Yes, David, I had actually done my research.
Bryan Ferry confirmed that the letter is genuine, and he would like to get hold of the original
Perhaps strangest of all, someone called Peter Fisher commented: "Just to inform the doubters, the guy whose post I saw it in, Andrew Kilderry, is an old friend of Ed Bicknell, who used to manage Bryan [Ferry]. Andrew sent it to Ed, who passed it on to Bryan, who in turn confirmed that it's genuine, and would like to get hold of the original. The letter belongs to Roxy Music's first agent…" Bryan, if you're out there, it's not real! What were you thinking?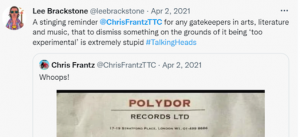 Another former member of Roxy Music, the superb drummer Paul Thompson, grew so tired of seeing the thing on his Facebook news feed that he posted: "I hope the April fool letter from Polydor has finished doing its rounds!" (It hadn't.) And then the Roxy guitarist Phil Manzanera was interviewed by the Rock'n'Roll Grad School podcast (see HERE) and revealed that he had discussed the letter with Bryan Ferry, Andy Mackay and Brian Eno. Whoever wrote it, he said, was "a genius" and deserved an Oscar. He was impressed by the fact that the recipient's address on the letter was actually Ferry's address at the time (I'd done my research again). Shared by the singer and Andy Mackay, that small house in Eversleigh Road, Battersea, witnessed some early Roxy rehearsals.
There was a lovely review of the letter in Treble magazine by Paul Pearson, who enjoyed the joke and speculated that the creator was Chris Frantz, someone at Polydor, "or even Ferry himself". I was proud to be praised so highly, but my emotions were mixed because I was still anonymous.
The letter continues to pop up occasionally on social media, like a piece of orbiting space junk. I'm sorry – I didn't expect it to be so successful – but I'm also glad that it lifted people's spirits at this difficult juncture in world history. Now, if you'll excuse me, I'm off to spin a few of my favourite James Last cassettes. ♦
© 2021 Tony Barrell