In 1973, David Bowie invited an old schoolfriend to travel the world. Geoff MacCormack had a smashing time, and his life would never be the same again. Interview by Tony Barrell
THE SUNDAY TIMES, 2007
The job was okay, as jobs went in 1973. It was telesales, selling advertising space at Construction News, a building-trade newspaper in London. Geoff MacCormack always enjoyed a nice natter on the phone. But the 25-year-old had done more glamorous work than this: he had tasted the showbiz life. He had fetched and carried for the jive-talking Radio 1 disc jockey Emperor Rosko, and, an aspiring singer, had sung backing vocals on David Bowie's Aladdin Sane LP. It hadn't been too difficult to land the Bowie job: they had been friends at primary school in Bromley, when Bowie was plain David Jones. Bowie was just 50 days older than him. And, as Bowie had metamorphosed from Anthony Newleyesque balladeer to curly-haired folk strummer and then carrot-topped gender-bending glam-rocker, they had kept in touch.
One day, thought MacCormack, he might get to do some more backing vocals. But now he had a sensible job, with prospects: he could rise through the ranks of Construction News and maybe become a big shot in business journalism.
Gwen the receptionist announced there was a Mr David Bowie on the line for Geoff. Bowie wanted him in his band
Then, one morning in January 1973, Gwen the receptionist announced there was a Mr David Bowie on the line for Geoff. Bowie wanted him in his band, the Spiders from Mars, which was about to embark on a world tour, playing a huge string of concerts in the US, Japan and the UK, and stopping in Hawaii and Russia en route. MacCormack would sing backing vocals, play percussion and live the rock'n'roll dream with one of the greatest entertainers of the age. Was he up for it? "Let's just say," says 60-year-old MacCormack now, "it wasn't the hardest decision I've ever made."
Normally a rock tour of that kind would begin with the star being chauffeured to the airport. Not this one: Bowie had been frightened by a premonition that he would die in an air crash, and refused to use planes. So MacCormack accompanied him on an ocean liner, the SS Canberra, for a week-long voyage to New York. It was just the first of a series of long journeys that more closely resembled the peregrinations of the Victorian aristocracy than the travels of the 1970s rock jet set. Bowie and MacCormack devised strategies to survive the longueurs.
"It took a day and a half to fully realise that near-complete inactivity is par for the course on a cruise ship," recalls MacCormack. "By day two afternoon tea was an exciting event to look forward to. When it came to dinner we decided to really make an effort and dress up. My fairly conservative clothes and long, dark, curly hair contrasted rather nicely with David's bright red barnet, shaved eyebrows, make-up and exotic, handmade Freddie Burretti suits. We took on the roles of a modern-day Oscar Wilde and Bosie. I would turn to David while dining and ask, 'More vegetables, my dear Oscar?' He would look towards the ornate ceiling with a look of disdain and say, 'I find vegetables so very vulgar.'"
David is very intelligent and well read, but there's a wonderful silliness to him as well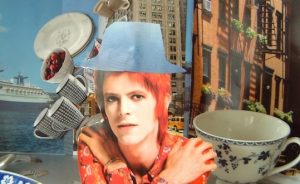 Though Bowie had announced to the press the previous year that he was bisexual, this friendship was not a full, physical re-enactment of the Oscar-Bosie relationship. In fact, MacCormack says that no "bi" behaviour was evident during their travels together. "David was quite a womaniser, in fact. During the time I was around him, it was women and lots of them."
MacCormack often took photographs, though not with any conscious intention to compile them later. Over 30 years on, he realised they would form the basis of a historic and entertaining travelogue – and so his lavish book, From Station to Station, was created.
Whereas less genteel British rock bands ritually trashed hotels, Bowie and the Spiders were better behaved. But they enjoyed their own more sedate brand of mischief on the UK leg of the tour, Bowie posing for MacCormack beside a sweetly slumbering tour driver, and the star and his backing vocalist "experimentally" dropping the components of a china tea service, teapot and all, from a seventh-storey hotel-room window. "David is very intelligent and well read, but there's a wonderful silliness to him as well," says MacCormack. One night they amused fans in a bar with a skit that was based on their cruise experiences, and seemed to presage the character of Manuel in Fawlty Towers two years later. "David played the uptight gentleman passenger and I played the incompetent waiter. The scene was set on board a heavily rolling ship and basically involved me trying to serve tray after tray of drinks and sending bottles and glasses flying all around the room."
The final concert of that tour, at London's Hammersmith Odeon on July 3, 1973, is famous for Bowie's announcement that it was "the last show that we'll ever do". Soon after the blizzard of "Bowie quits" headlines had died down, it became clear he hadn't, altogether: he was apparently just retiring his alter ego, Ziggy Stardust, and disbanding the Spiders. MacCormack was one of the lucky ones: he would be kept on for the next four studio albums and for the 1974 Diamond Dogs tour. He adopted the punning Tolstoyan handle of Warren Peace – just because "it all felt like a bit of a holiday, and I was having a laugh" – and he even got to co-write a song with Bowie: 'Rock 'n' Roll with Me', on the Diamond Dogs LP.
David was a natural for The Man Who Fell to Earth. It was such an inspired piece of casting
In 1975 he had a real treat, accompanying his mentor to New Mexico for the filming of The Man Who Fell to Earth, in which the uneven-eyed Bowie played an alien sent to Earth to save his own planet. "David was a natural for that film. It was such an inspired piece of casting." MacCormack drove Bowie's trailer and became his unlikely body double. "Despite some bright spark in the wardrobe department finding me a red wig to wear, as the shoot went on I was, mercifully, used less and less as a stand-in."
His rock'n'roll adventure came to a natural end after the recording of Bowie's Station to Station album in late 1975. MacCormack was missing his family in London, Bowie had no projects planned and was spending a lot of time painting. "I decided to step away and get on with the rest of my life." Since then, MacCormack has made music for commercials and films, married and had two daughters, and had his own glass-fronted house built in London's Maida Vale. "And I've sat on all this stuff for 30 years. Not many people know that I had this amazing experience. I'm really on the perimeters: I've read whole books on David where I'm not mentioned at all. So all of this will, hopefully, come as a nice surprise to people."
The book has delighted Bowie himself. "Will you actually be able to get this stuff published do you think?" asks the old joker himself in his foreword. ♦
See the book From Station to Station here.
© 2014 Tony Barrell
Tony Barrell is the author of several books on music, including Rock'n'Roll London and The Beatles on the Roof.