Stars like Cliff Richard were raised on the rock'n'roll they heard on Radio Luxembourg. But little did they know that many of the station's shows were recorded in London
MAY 2020
Mention the words "Radio Luxembourg" to music fans of a certain age, and a golden mist of nostalgia will descend. Countless British teenagers received their first taste of rock'n'roll from tuning in late at night to this faraway wireless station, situated in one of the smallest and least familiar nations of the world. What most of those listeners didn't know, tucked up in bed with their earpieces relaying sounds from the country tucked between France, Germany and Belgium, was that many of the shows they listened to were recorded here in London.
From 1952, Radio Luxembourg had studios and offices at 38 Hertford Street in Mayfair, and it was in this unremarkable-looking building (pictured left) that presenters would record entire shows. The tapes would then be flown to the Grand Duchy of Luxembourg, where they were played over the airwaves for nocturnal British listeners to pick up. This absurd procedure was a way of circumventing the British law prohibiting advertising on the radio, and breaking the monopoly that the BBC used to have on UK radio broadcasting.
Radio Luxembourg plugged all kinds of products, from shampoo to cigarettes
Luxembourg was a commercial station, subjecting its listeners to paid-for advertisements between the music and chat. Not only were there plugs for all kinds of products, from shampoo to cigarettes, but record labels would pay to have their discs played on Luxembourg – something that was anathema to Auntie Beeb. And such was the station's hunger for cash that the DJs often played little more than half of each record. But a minute or less was all it took for the teenagers of London, Basingstoke or Stockton-on-Tees to become hooked on the latest disc by Elvis Presley, Little Richard or Jerry Lee Lewis. In an age before portable cassette recorders and Spotify, they would tune to 208 on the medium-wave band and lie in wait for Luxembourg, "the Station of the Stars", to give their favourite songs another play. This wasn't a high-fidelity experience: notoriously, the signal would often fade out and there would be strange whooshing and phasing noises to put up with.
Presenters who came to the London studios to record their shows included some big names of the future – Alan Freeman, Pete Murray, Brian Matthew, David Jacobs and Jimmy Young. And among the crowd of young men was a rare female disc jockey, the fabulously well-spoken Muriel Young, who also did duty as an agony aunt, answering questions from young listeners about dating, make-up and hairstyles. In the early 1970s the DJ John Peel made his own rock-music programmes for Luxembourg, which were recorded at the same London studios.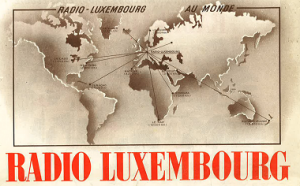 Not all of Luxembourg's shows were taped in Hertford Street: programmes sponsored by EMI would be recorded at the company's own London HQ in Manchester Square. In March 1964 the Rolling Stones went to Regent Sound Studios to record a long session for the station. And from the 1960s the station employed DJs who would broadcast live from studios in Luxembourg as well.
Cliff Richard didn't know that Luxembourg was a country. He thought it was a couple of rooms with DJs
Thousands of listeners had found Luxembourg on a map, but others were in blissful ignorance, imagining it was just a fancy name for a radio station. The young Harry Webb, who would become Cliff Richard, was one of the latter group. "When I was a kid at school, I did not have any idea that Luxembourg was a little country," he once admitted. "It wasn't until much, much later… I mean, I think I'd probably started making records when I suddenly realised that Luxembourg was not just a radio station… it's a place! I just thought it was a couple of rooms with DJs in it."
Cliff had first heard Elvis Presley's 1956 single 'Heartbreak Hotel' blaring out of a car window in the Hertfordshire village of Waltham Cross. Keen to hear it again, he listened attentively to Radio Luxembourg. "And it wasn't very long before I heard the record, and his name, Elvis Presley. And thought, what a funny name. Elvis was an alien name to all of us. But that was it: I was hooked, instantly." By 1959, Cliff Richard was recording his own live performances for Luxembourg in Hertford Street.
A pre-teenage Bryan Ferry won a Bill Haley competition on Radio Luxembourg
Many other young people with musical futures were transfixed by the music on Radio Luxembourg. The teenage John Lennon listened in at night in his Aunt Mimi's house in Liverpool. Down in Surrey, the guitarist Jeff Beck tuned in to hear the latest rock'n'roll, Motown and Stax releases. Robert Plant, later the singer in Led Zeppelin, was entranced by records such as 'I Like It Like That' by the New Orleans R&B singer Chris Kenner. As a boy, the producer Alan Parsons built his own radio set so he could listen to Luxembourg.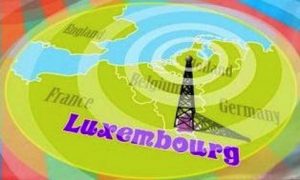 The station often ran quizzes and gave out prizes, and in 1957 a pre-teenage Bryan Ferry won a competition and received a free LP, plus front-row tickets for an inspirational show in Sunderland by Bill Haley and His Comets. After Ferry formed Roxy Music in the early 1970s, the band would be thrilled to hear their early recordings played by Kid Jensen on Luxembourg.
It was on Luxembourg that Ian Astbury, who later fronted the Cult, heard the music of the Doors for the first time. Decades later, in 2002, Astbury would step into Jim Morrison's shoes and perform in a Doors revival band with two members of the original group.
It wasn't just the music on Luxembourg that impacted pop culture. One advertiser on the station was Horace Batchelor, who claimed to have a successful system for winning the football pools. During his oft-repeated ads he would give his post-office-box address, meticulously spelling out the name of a suburb of Bristol, Keynsham (pronounced Cane-sham). The commercials quickly became a target for parody, and the Bonzo Dog Doo-Dah band took Keynsham for the name of one of their albums in 1969.
David Bowie came here to record demos for Ziggy Stardust
Radio Luxembourg had sidelines including a successful magazine, Fab 208, and its own disco nights in London. And the station's Mayfair studios could be hired privately by people wanting to make recordings cheaply, on equipment that was far from state-of-the-art. David Bowie came here in 1971 to make basic demos of tracks that later appeared on his breakthrough album, The Rise and Fall of Ziggy Stardust and the Spiders from Mars. The Hertford Street version of the song 'Ziggy Stardust' features Bowie singing to his own roughly strummed, slightly out-of-tune 12-string guitar. During the same period, Bowie's short-lived band Arnold Corns recorded their flop single 'Moonage Daydream' at Luxembourg Studios, along with its B-side, 'Hang onto Yourself'. Both songs would also appear on the Ziggy Stardust album, recorded much more impressively at Trident Studios in St Anne's Court, Soho.
The Monty Python team came to Luxembourg Studios in October 1972 to record their third album, Monty Python's Previous Record, which included Eric Idle's hilarious critique of Australian wines, the 'Fish Licence' sketch and their philosophical single 'Eric the Half-a-Bee', co-written by Idle and John Cleese. Part of their subsequent LP, The Monty Python Matching Tie and Handkerchief, was also taped here.
Radio Luxembourg made its final broadcast in 1991. It was a happy accident of history that it became such an effective vehicle for promoting the pop-music industry. It hadn't seen rock'n'roll coming, and most rock'n'rollers were initially unaware of the station's existence. It began transmitting on long wave in 1933, and when the Grand Duchy was occupied by Germany in World War II it was seized by Adolf Hitler's minions and used to transmit fascist propaganda – most notoriously the traitorous rants of Lord Haw-Haw, alias William Joyce. If the Nazis had won the war, not only might rock'n'roll never have happened, but Radio Luxembourg might not have been available to boost its popularity across the world. ♦
© 2020 Tony Barrell
Tony Barrell's acclaimed new book, Beatlemania, is available across the world.