AUGUST 2019
The drummer Paul Thompson failed to get a job on the London Underground. But the experience influenced one of Roxy Music's perkiest B-sides – 'Your Application's Failed'. Tony Barrell reports
Paul Thompson put much of the "rock" into Roxy Music. The powerhouse drummer who boosted the band's sound on their first six studio albums, he is still revered today by fans who call him "The Great Paul Thompson", or simply TGPT. The vast majority of the band's original songs were written by the singer Bryan Ferry (occasionally in collaboration with his bandmates, notably saxophonist Andy Mackay and guitarist Phil Manzanera), but on one occasion TGPT was given free rein to create his own Roxy track.
Before this important British art-rock band started to gain serious commercial attention, Thompson was doing labouring work to pay the bills. As the Tyneside-born drummer told me when I interviewed him in December 2011, "In the early Roxy days, we weren't getting any wages or anything. So I was working on a building site. But I was getting a bit sick of that, so I went for one of those night jobs on the London Underground, doing maintenance work and cleaning during the night. So I went to apply for a job; I had to go to a place off Marylebone Road in London, I think. The guy I saw was an ex-military type, and he gave me a look when I walked in with my long hair. I filled in a form and answered some questions. And his reply was 'Your application's failed.' I'm sure it was just because of the length of my hair."
The originality of Roxy Music extended to the B-sides of their early singles, which were miniature pop experiments – instrumentals conceived by various members of the band. The first two – 'The Numberer' and 'The Pride and the Pain' – were penned by Mackay, and the third – 'Hula Kula' – was a Manzanera composition. These B-sides helped to give Roxy's singles a special charm (and value for money) that was lacking in those of other artists, who usually shoved unremarkable album tracks on the flipsides of their hits.
I was a bit of a comedian at the time. I used to make all the lads in the band laugh with my Geordie humour
In late 1974, as the time approached to release Roxy's fourth single, the glorious 'All I Want Is You' from the Country Life album, heads turned in 23-year-old Paul Thompson's direction. "I was a bit of a comedian at the time. I used to make all the lads in the band laugh with my Geordie humour. I told them the story about going for the job, and at some point after that, somebody said, 'Oh, it's your turn to write a B-side.' So I was fiddling around with a guitar and I had this little idea. The Roxy B-sides were always fun things."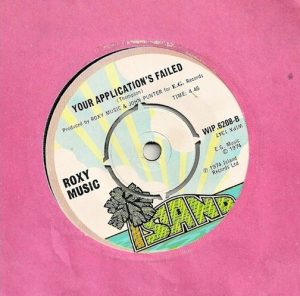 The band took Thompson's little idea into AIR Studios, the recording facility established on London's Oxford Street by a group of studio boffins including Beatles producer George Martin. "I think it was Bryan who said, 'Why don't you say "Your application's failed" in the middle of the track?' " recalled Thompson. The recording, a funky little number featuring the drummer's Geordie tones and some nice Rototom work, duly became 'Your Application's Failed'. Sadly, it's unlikely that Colonel Blimp in the London Underground recruiting office ever knew that he made a contribution to the Roxy Music oeuvre. ♦
© 2019 Tony Barrell
You can listen to 'Your Application's Failed' HERE.
Tony Barrell is an author, journalist, editor, lexicographer and raconteur who lives in London. Here's one of his BOOKS.