Move over, Nigella and Heston. Now dozens of musicians are writing their own cookbooks. Tony Barrell reports
THE SUNDAY TIMES, 2012
We enjoy hearing and seeing our favourite music stars, but do we really want to taste their work as well? Judging by a spate of cookery books from musicians, we may have to get used to the idea. In 2012, Paul Young presented us with Recipes Found on My Travels, while Olivia Newton-John served up Livwise: Easy Recipes for a Healthy, Happy Life. And some unlikely artists have been jumping on the meatwagon: Chris Taylor of the US experimental band Grizzly Bear announced that he is writing a book of "seasonally relevant" recipes, and the Californian pop-rock band Smash Mouth published its own volume, Recipes from the Road. Whatever's next – Tempting Treats from Lady Gaga's Aga? Cold Plates from Coldplay?
Paul Young serves up mouthwatering meals such as Portuguese fish stew and New Orleans bread pudding. These days, wherever he leaves his spatula, that's his home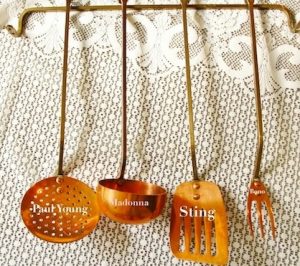 The Paul Young and Smash Mouth cookbooks share a theme: rock'n'rollers tour a lot, and they can discover some delicious dishes along the way. In his book, Young – who has already shown his prowess on Celebrity MasterChef and Hell's Kitchen – serves up mouthwatering meals such as Portuguese fish stew and New Orleans bread pudding. These days, wherever he leaves his spatula, that's his home. Smash Mouth's selection is a bit more rock'n'roll, with hardcore recipes like "penne à la vodka" and "salt & pepper caramel doughnuts" from hip eateries across America, laced with cocktails and garnished with wild tales of life on the road.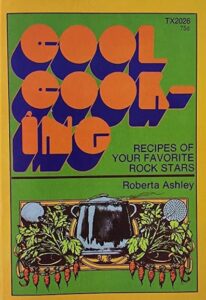 Olivia Newton-John's volume has a thematic link with another recent book – If It Makes You Healthy: More than 100 Delicious Recipes Inspired by the Seasons, by the American singer Sheryl Crow. Both artists have suffered from breast cancer, and both are now fixating on the role that nutrition plays in good health. Just as Crow co-wrote her book with Chuck White, the personal chef who transformed her diet after the diagnosis, so Newton-John has included recipes from the chefs at the Gaia health retreat she co-owns in Australia. I honestly love Livvy's bush-spiced barramundi, in particular.
A pre-vegetarian Paul McCartney recommended pizza with anchovies or sliced Italian sausage
Other rock'n'roll cookbooks are like multi-artist compilation albums. Love Music Love Food: The Rock Star Cookbook, from 2011, includes favourite meals from dozens of stars, including Tinie Tempah (seafood linguine), Professor Green (jerk chicken) and Madness (pie and mash). We also hear Rolf Harris confessing: "My wife and I have withdrawal symptoms if we don't have a curry every few days." Another collection from 1972, entitled Cool Cooking, had a pre-vegetarian Paul McCartney recommending pizza with "anchovies or sliced Italian sausage", and a disgusting "burnt sugar pudding" from The Who.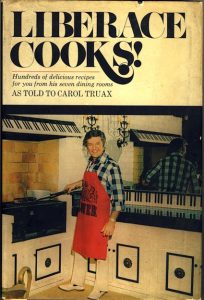 The great pioneers of the musical cookbook are the country singers of America. Country sprang out of the southern states, where good ol' home cooking is virtually a religion, and there have been tasty tomes from Dolly Parton, Loretta Lynn, Trisha Yearwood and a wagonload of other stars. There have also been soul-food books from Patti LaBelle and Isaac Hayes (who voiced the unforgettable Chef in South Park, with his "chocolate salty balls"). And even the schmalziest entertainers have had a go. The cover of Liberace Cooks!, from 1970, showed Mr Showmanship himself beneath a piano-keyboard cooker hood, and promised "Hundreds of delicious recipes for you from his seven dining rooms".
Liz McClarnon's culinary adventures are partly a reaction against her experience of the pop-star lifestyle
Liz McClarnon of Atomic Kitten tells me she has been co-writing a cookbook with the chef Helen Tillott, who has worked with Marco Pierre White. "It won't be out for a while," says McClarnon, "because we want it to be really special, and it keeps going on the back burner when I get busy with other things." McClarnon won Celebrity MasterChef in 2008, and her culinary adventures are partly a reaction against her experience of the pop-star lifestyle. "I started a love affair with junk food when I first got into Atomic Kitten," she says, "but I got sick on it, and I can't eat processed food now." She believes that serious cooking is analogous to a concert performance. "Some people are fabulous singers on stage, but they don't say anything between the songs, which is a shame. It's the same at a dinner party: you've got to keep the diners entertained, and come out of the kitchen every now and then and go, 'Is everyone all right?' "
Gary Numan told me that if he wanted to cook something as complex as scrambled eggs, he had to follow a recipe
But not all pop stars are budding Delias and Hestons. Madonna said several years ago that she didn't think she had ever cooked a meal "entirely by myself", but could do it "if you put a gun to my head". Beyoncé has said she wishes she was more of an independent woman in the kitchen: "You'd think as much as I love to eat that I'd be able to cook, but no." And I once had an amusing conversation with Gary Numan, who told me he loved ordinary British food like sausage and chips, but if he wanted to cook something as complex as scrambled eggs, he had to follow a recipe. Don't expect Gary's Guide to Gastronomy any time soon. ♦
© 2014 Tony Barrell