Why do collectors spend a fortune on the possessions of famous people – from handbags and glad rags to guitars and golf clubs? Tony Barrell talks to the buyers and sellers of some cool modern treasures

THE SUNDAY TIMES (COVER STORY), 2011
Christie's South Kensington is abuzz. It's a sunny afternoon in the summer of 2011, and the stately old London auction house is about to put a unique object up for sale in its latest Pop Culture auction. "Lot number 71," announces the besuited and bespectacled auctioneer Nic McElhatton, as the image of a small, mottled lump of wood appears on a television screen. The catalogue describes this as a "Hand carved wooden smoking pipe owned by Jimi Hendrix", with an estimated sale price of £300-400. There are sniggers behind me from a pair of long-haired men in faded denims. "It's Hendrix's hash pipe," someone whispers.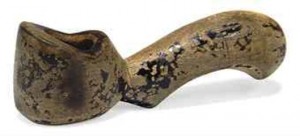 As he bangs his gavel, Jimi Hendrix's hash pipe sells to an anonymous phone bidder for £3,500
The bidding starts in the hundreds, quickly passes the estimate, rises to £1,000 and keeps going, as hands rise in the saleroom and feverish offers arrive by telephone and online. Within a minute, the price of the rock god's narcotic knickknack has shot to £1,900, and the normally straight-faced McElhatton is telling jokes. "I don't think there's anything left in the pipe," he quips as the bids continue. "Maybe there is!" he adds, as the offers whizz past the £2,000 mark. As he bangs his gavel on the block, lot 71 sells to an anonymous phone bidder for £3,500.
Though he died more than 40 years ago, Hendrix items still outstrip those of more recent pop sensations. Earlier that afternoon, a pair of scuffed white platform sandals worn by Geri Halliwell in the 1997 film Spiceworld had fetched a high bid of £400 from the back of the saleroom, and ended up selling for Christie's minimum lot value, £500. If only Ginger Spice had had seven pairs of old shoes up for sale, she might have matched the price of that little wooden pipe.
Collectors of celebrity paraphernalia were kept busy that summer: in Britain and across the Atlantic, there was a dazzling selection of starry objects going under the hammer. Jeffrey Archer presided over the sale of Margaret Thatcher's most famous possession, and the sale of a legendary Hollywood costume prompted an unprecedented campaign to rescue it for the people. Meanwhile, hordes of bidders vied to buy the property of villains such as Al Capone and Bernard Madoff. I decided to haunt the salerooms, talk to some big collectors, and discover the real stories behind the multi-billion-pound trade in celebrity possessions.
Why do people spend so much money to collect these things? "It's like a jigsaw puzzle," says a collector I meet called Ali, an insatiable buyer of items that belonged to members of the Rolling Stones. "You're always looking for that missing piece, and you've got to have it."
Stephanie Connell, director of the entertainment department at Bonhams auctioneers in Knightsbridge, says famous objects have an instant appeal for the general public. "With fine art, you need some sort of knowledge or background in it to appreciate how important a piece is," she says. "If you talk about Modigliani in the street, not everyone will know what you're talking about. But if you mention the Beatles or Audrey Hepburn, most people will, so you have a much wider marketplace. And there are lots of emotional connections with pop, film and TV memorabilia, because it's often something you've grown up with."
Memorabilia collectors seem just as driven as the religious relic hunters who searched for chunks of Christ's crucifix in the Middle Ages
The human passion for collecting things has long been fretted over by psychologists – Sigmund Freud thought it was connected to anal retention in childhood – but here we see the collecting bug combined with the powerful cult of celebrity. Modern memorabilia collectors seem just as driven as the religious relic hunters who roamed the world in the Middle Ages searching for St Augustine's elbow or chunks of Christ's crucifix. As the entertainment industry grew in the 20th century with the birth of moving pictures, pop music and the internet, autograph hunters and stage-door johnnies started looking for bigger thrills and more expensive items. In 1981, Sotheby's brought rock'n'roll collecting into the mainstream with the first high-end auction of pop memorabilia. And after the foundation of eBay in 1995, millions of people found themselves able to bid from home for all kinds of celebrity-associated treasure and tat.
"Collectibles are booming," says says Adrian Roose, a memorabilia expert with Paul Fraser Collectibles in Bristol, which buys and sells "unique items of historical importance", including many celebrity objects. "There are more and more people collecting unique items now. They're tangible assets, their value isn't going to disappear overnight, and where else are you going to put your money at the moment, with interest rates at historical lows? There's a rise in what we term 'nostalgia collectors' – part of the baby-boomer demographic who now control about 80% of the world's wealth. And museums and casinos are increasingly buying these items. The black dress that Princess Diana wore after her engagement to Prince Charles was bought by a fashion museum in Chile in 2010. They paid £192,000 for it."
There is even a strong demand for famous items that can't be found, says Roose. "We've got a handful of customers asking us to track down Little Bastard, the car that James Dean crashed when he died in 1955 [pictured below]. The American police took it off on a roadshow about road safety, and on the way back it was stolen. We think it's been broken into three pieces. We know where the axle is; we're just looking for the other parts."
When it comes to value, the laws of fame usually apply, says Stephanie Connell: a toenail clipper owned by Madonna is likely to sell for much more than a lawnmower once pushed by the bass player in Kajagoogoo."The stars who receive the highest prices are ordinarily those people who are considered to be the absolute top of the A-list in terms of celebrity and importance – people like Marilyn Monroe, John Lennon, James Dean. But sometimes you get something really special that belonged to someone who isn't quite as well known worldwide. We sold George Formby's favourite banjolele a few years ago, and it went for £72,000 because it was such an important instrument."
Auction houses stress that they are just as rigorous in their authentication of celebrity items as they are with Ming vases or Victorian whatnots. "When somebody brings something in, you soon get an inkling if they're fabricating something or not telling the truth," says Neil Roberts, head of popular culture at Christie's South Kensington. "You get a gut feeling for it. And if someone says, 'I got this on May 9, 1967, from John Lennon when I was in Liverpool,' you can check and say, 'But he wasn't in Liverpool that day.'"
Either Michael Jackson's spangly white glove is a frequent global flyer or there are countless versions of it
Just because something is iconic, it doesn't make it unique. Michael Jackson is remembered for wearing a spangly glove on his left hand during a moonwalking performance of Billie Jean in 1983. Either that glove is a frequent global flyer or there are countless versions of it.  One sold on eBay in April 2009 for about £67,400. Another was sold in Australia in September 2009 for about £30,000. Two months later, "Michael Jackson's famous white glove" went for about £250,000 in New York to a Hong Kong businessman. In June 2010, a sparkly white glove was bought by a fan in Las Vegas for more than £130,000. And yet the Experience Music Project, a museum in Seattle founded by the Microsoft co-founder Paul Allen, proudly displays the glove from 1983, while reports of Jackson's burial clearly state that he was wearing one when he was interred in Los Angeles in September 2009. "The gloves aren't so attractive to us, because there are so many of them," says Adrian Roose. "But we do have Michael Jackson's hair from the Pepsi-Cola commercial in 1984, when his head caught fire. The executive producer of the ad put his jacket over Michael's head to douse the flames, and some hair stuck to the jacket, which the director sold at auction. Celebrity hair is one of the fastest-growing markets."
Celebrity teeth are harder to come by – although a tooth that once resided in the mouth of John Lennon went for £19,500 in 2011. The Beatle had generously given the extracted molar to his housekeeper at his mansion in Kenwood, Surrey, in the 1960s.
But the fact that items regularly exceed or fall below auction houses' estimates, or fail to sell at all, reveal that estimation is far from an exact science. "Auctions are funny beasts. It all depends on who turns up on the day," says Roose. "But history suggests that  if you choose the right pieces, they will increase in value."
The white suit that John Lennon wore as he crossed the zebra crossing on Abbey Road was sold at auction for £67,000
There is the odd exception. Consider the chequered history of the white suit that Lennon wore as he crossed the zebra crossing on the cover of the Beatles' 1969 album Abbey Road (pictured above). Designed by the Parisian couturier Edmond "Ted" Lapidus, the ivory two-piece wool-blend suit was given by Lennon to the New York restaurateur Richard Ross in 1974. In 1996 it was bought by a New York psychic and memorabilia enthusiast called Biond Fury, who sold it at a 2005 California auction for about £67,000 to a Florida collector called Anthony Pugliese. When the suit was auctioned again in New York in 2008, the fickle Fury bought it back, but in 2011 he consigned it to a sale in Connecticut after finding himself in financial difficulties. An anonymous online bidder snapped it up for little more than £29,000.
Ali, the Rolling Stones collector, tells me he is constantly networking and looking high and low for his booty. When a 1963 suit jacket owned by the band's late guitarist Brian Jones appeared at a sale at Goodwood racecourse in West Sussex in 2010, he picked it up for £12,350. "I was extremely lucky," he says. "It was sold by his son. If there aren't many people bidding against you, you can have things for a reasonable price." Even in big London sales, items can be well hidden. Concealed among the Axminster carpets and Victorian samplers in a sale of "Textiles, Embroideries, Linen and Lace" at Phillips auction house in 2000 was "A pair of hipster trousers, of black cotton and lycra… waist size 28" worn by Mick Jagger on the Stones' 1989 Steel Wheels concert tour. Tipped off by a sharp-eyed contact, Ali arrived and bought them for £500. Back in the 1990s he bought the maracas that Jagger can be seen shaking in many early performances, for a mere £300.
Born to a wealthy family in Bahrain near the dawn of the Swinging Sixties, Ali came to Britain in the 1970s and later landed a high-paying job in international public relations, which meant he was well positioned to start buying the Stones' guitars, clothes, letters and school yearbooks when the memorabilia market took off in the 1980s. Now "semi-retired", Ali, who resembles a Middle Eastern and more amiable version of Lou Reed, has catalogued most of his collection on his iPad, which has effectively become his own personal digital Rolling Stones museum. "Before I had my iPad, I couldn't remember all the things I had." He sometimes buys non-Stones-related items with a view to trading them later, so as he whizzes through the pictures on his screen we see a stack of gems from the Who: a selection of colourful clothes worn by Keith Moon and some early cartoons by John Entwistle, bought recently from a man who used to work with the band. "I'd rather buy direct, because if you buy at auction you have to pay a percentage to the auction house, and so does the vendor. But collectors often don't sell things to each other, because there is this animosity between them."
Mariah Carey and Tommy Hilfiger were both successful bidders at a sale of Marilyn Monroe property in 1999
It isn't just the possessions of glamorous celebrities that collectors crave. Notorious villains also commanded high prices in 2011. A handgun said to have belonged to Al Capone went to a private collector for £67,250, and the hoodie and sunglasses worn by the American serial bomber Ted Kaczynski, aka the Unabomber, fetched around £12,400. And that summer, thousands of Floridians competed to buy the seized personal property of Bernard Madoff, who is serving a 150-year prison sentence for cheating thousands of people out of millions of dollars. A set of 14 pairs of the fraudster's boxer shorts sold for about £120, but one young Miami couple bought an item that was much more emblematic: his golf bag from the Palm Beach Country Club, which was a stalking ground for his scam victims. Tatiana Peisach and Freddy Morgenstern told me they paid around £1,250 for the set. "We were very encouraged when we heard the money was going to his victims," said Peisach. "But we wanted to get something we could use as well, and we've just started playing golf together. We went along and we got lucky."
Back home, they opened the bag and found it contained his sunscreen as well as his personalised clubs and balls. "When we were done, I said, 'We need to wash our hands right now,'" said Peisach. "It was creepy." Meanwhile, the arch-swindler has inspired further swindles across America: his property sales have triggered a rash of bogus auctions, which purport to be sales of Madoff property while having nothing to do with him.
It's inevitable, given the high prices many celebrity objects go for, that sometimes the buyers are celebrities themselves. Mariah Carey and Tommy Hilfiger were both successful bidders at a grand sale of Marilyn Monroe property at Rockefeller Plaza in New York in 1999. The singer (who has since called her daughter Monroe in honour of her heroine) paid around £400,000 for Marilyn's treasured white baby-grand piano, while the fashion designer paid £51,000 for a pair of square-toed tan leather boots that the actress wore in her last completed film, The Misfits, plus about £25,500 for three pairs of denim jeans she wore in the 1954 film The River of No Return. Hilfiger's purchases turned out to be unselfish: he explained that Demi Moore had wanted him to buy the boots for her to wear, and he gave the jeans to Britney Spears.
When the big movie studios started selling off their stock in the 1970s, Debbie Reynolds became a serious buyer
But 2011's blockbuster Monroe item was the pleated white cocktail dress that blew around her in a breeze from the subway on the streets of New York, in the 1955 film The Seven Year Itch (pictured below). The dress was the property of Debbie Reynolds, the actress remembered for movies including Singin' in the Rain and The Singing Nun.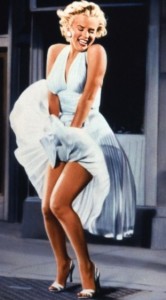 When I call Reynolds, she recalls how she was bitten by the memorabilia bug. "I've always loved the movies," she says, "and when I came into films in 1948 I had a great admiration for the golden era of Hollywood. I was under contract to MGM, and I spent most of my free time going to the props department and looking at all the wonderful things from the great films." Then, when MGM and other big movie studios started selling off their stock in the 1970s, she became a serious buyer. "I just thought it would be a shame if everything was sold and spread around the world, with nothing remaining here in California. I didn't have anything in mind other than preserving these artefacts." She says she ended up with "a warehouse of 40,000 square feet, filled with treasures", and dreamt of opening a permanent museum where movie fans could come and see re-creations of classic Hollywood movie scenes. "But I couldn't get the backing I needed for that, and my son Todd and my daughter Carrie, and many friends, convinced me that I was never going to bring the museum to fruition. So I said, well, we'll have to go to auction."
Reynolds held her first sale in Beverly Hills this summer, and when it was announced that the Seven Year Itch dress would be going under the hammer, something unexpected happened. A group of professional people in New York, from the worlds of fashion and the arts, organised a campaign to rescue the garment for their city. Save-The-Dress, as they called themselves, used social networking websites to attract money for their own auction bid, had a team of volunteer fundraisers working long hours, and organised a big event at the subway grating on Lexington Avenue between 71st and 72nd Streets – exactly where Monroe had stood for the famous film scene – where they displayed a duplicate of the dress, supplied by the estate of its designer, William Travilla. One of the organisers, Scott Trent, spoke to me before the auction. "We want to make certain that this dress does not end up in a private collection, where it may never be seen again," he said, "and that it doesn't end up being cut into little pieces by someone who wants to sell the bits to collectors. We want to keep it intact and available for the public to view it whenever they like."
So many people arrived for that Saturday auction in Beverly Hills that they couldn't fit in the main room, and a satellite link had to be set up with another room. The Save-The-Dress campaigners bid $1.1m; other bids quickly followed, including a $2m phone bid from Paul Fraser Collectibles, and Save-The-Dress went up to $2.2m. They were prepared to go to $3.1m, but didn't get a chance as the bidding shot up to $4.6m. The winning bid came over the telephone from an anonymous buyer, apparently based overseas, who was charged $1m in buyer's premium on top of the winning bid.
Debbie Reynolds tells me she "cried all through the auction". It was particularly sad, she says, that the famous dress went to a foreign country. "I understand that the country it went to is building a museum, where it will go on show, so perhaps they'll invite me to the opening."
**************************************************
Jeffrey Archer turns out to be rather good at auctioneering. He even resists the temptation to say "Not a Penny More, Not a Penny Less" at the end of each transaction. "Seven thousand!" he exclaims. "Ten thousand I'm looking for… 10,000 I've got… 12,000 I'm looking for…" It's the hottest evening of the year, and the 71-year-old author, ex-convict and former Tory deputy chairman is selling one of Eric Clapton's Fender Stratocaster guitars, signed by the guitarist, at a glittering charity auction at Christie's in St James's. The guitar has an estimate of  £20,000-£30,000, but Lord Archer is still struggling to find that £12,000 bid. "Twelve thousand for the guitar? Anybody in the room for this amazing guitar, worth double this, plus? We could take it across the road to Sotheby's," he jokes. Eventually he bashes the gavel for a £12,000 sale, and then a trio of press photographers race into position for the next lot. "Handbag! Handbag!" they say to each other, like refugees from an Oscar Wilde play.
An iconic celebrity object is carried ceremoniously into the room. It is a rectangular black Asprey handbag, donated by the baroness herself, who has owned it for more than 30 years. Wielded at cabinet meetings and international summits, this icon of the 1980s was regarded as the greatest symbol of the former prime minister's authority and power. Tonight it has an estimate of £75,000-£100,000, and the money raised will benefit three charities, including the British Forces Foundation. But Archer ends up having to "let it go" for £20,000, plus Christie's donated buyer's premium of £5,000.
"The last Margaret Thatcher handbag that was auctioned went for £100,000, in 2000," Adrian Roose points out. "But the Lord Archer sale was invitation-only, and when you do that, it's not a completely open auction and you're possibly not attracting the right purchasers."
Margaret Thatcher is indisposed and can't be here to see her handbag go, but her daughter, Carol, is here. "I have yet to meet the buyer," she tells me, squinting and scanning the back of the room. "I've been wandering around, looking for the buyer." I know auctions can sometimes be quick and hard to follow, but Carol Thatcher was sitting in the front row – so how could she fail to notice that the winning bid came over the phone? The buyer is 2,000 miles from here, in Cyprus.
**************************************************
It's a rainy winter's afternoon in Pall Mall, but inside the Royal Opera Arcade there is an atmosphere of barely suppressed excitement. Kerry Taylor Auctions, which specialises in vintage fashion, has attracted a throng of bidders to spend thousands of pounds on rare ball gowns, jewellery and handbags. There are items here that once belonged to Elizabeth Taylor, Audrey Hepburn and the Duchess of Windsor. But the real scene-stealer of this London sale, the piece that hundreds have come to gawp at, is still waiting its turn on the rostrum. It's a quirky little polka-dotted chiffon dress, by a designer called Disaya, that was once worn by a young woman in a famous portrait – a photograph that can now be found in millions of homes. And it is just five months since the woman died suddenly at the age of 27.
Finally, it's time for the dress to be sold. "I'll start the bidding at £8,500," announces the auctioneer, Kerry Taylor herself. Within seconds, a flurry of bids has sent the price up to £14,000, £15,000, £16,000, and then it keeps going, smashing through its pre-sale estimate of £10,000-£20,000. There is frantic activity on one side of the hall, where staff are accepting bids by telephone and over the internet. The price makes a series of £2,000 leaps until it reaches £36,000. Taylor bangs her gavel to hearty applause. And so the dress that Amy Winehouse borrowed in 2006, to wear on the cover of her multi-Grammy-award-winning album Back to Black, finds a buyer. Once the buyer's premium is added, the total price is £43,200. The proceeds go to the Amy Winehouse Foundation, the charity set up in the late singer's name "to bring healthier and happier lives to young people".
There's more of an appetite for the more expensive things abroad, and some overseas museums have bigger budgets
Kerry Taylor tells me later that there were representatives from three UK museums present is the saleroom, but that the dress was sold to a fashion museum in Chile, namely Museo de la Moda. This is the same museum that bought a famous Princess Diana dress for £192,000 last year.
"I think there is more of an appetite for the more expensive things abroad," says Taylor, "and some of the overseas museums have bigger budgets." But she is thrilled that this "slip of a dress" worn by Winehouse has raised so much for a good cause, and that the public – at least in Chile – will be able to come and see it. "Disaya had it just sitting in a cupboard. And when I got it, the red belt was missing, so I commissioned a top leatherworker to make a belt that looked exactly the same."
A joke, in frightful taste, quickly begins to circulate online: "An Amy Winehouse dress sold for £43,200 today. That sounds excessive, but you have to remember a lot of needlework went into it." ♦
© 2014 Tony Barrell
Tony Barrell has been published by HarperCollins, Omnibus Press, ACC Art Books, Iconic Images and Godknowswhoelse.