Why are people using album covers to create hilarious illusions? Tony Barrell discovers the phenomenon of 'sleevefacing'
THE SUNDAY TIMES, 2008
Wales has given the world some very strange things. There are love spoons, the sport of bog-snorkelling, Bonnie Tyler, the Sinclair C5, and the Mosquito Teen Repeller – a machine that emits a frightening noise to keep young hoodies away. And now Cardiff has become the official cradle for one of the oddest and most comical art forms ever devised.
At sleeveface parties, revellers bring a new dimension to familiar photographs of Madonna's head, Bruce Springsteen's bottom or Tina Turner's legs
Even if you haven't heard the word "sleeveface", you may know what it signifies. You may have caught adverts in the press and on TV in which people are having fun with the covers of LP records, using them as modern-day masks to impersonate Elton John, Edith Piaf or the Righteous Brothers. You may have seen websites devoted to sleevefaces, or glimpsed people larking about with covers in a record shop while the staff aren't looking. You may even be one of the thousands of Britons who have attended a sleeveface party, in which revellers bring a new dimension to familiar 12-inch-square photographs of Madonna's head, Bruce Springsteen's bottom or Tina Turner's legs. And now you can buy a book packed with choice examples of the sleeveface genre from all over the world.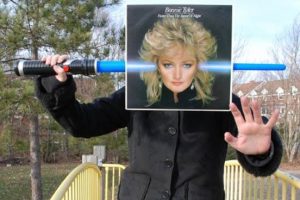 Strictly speaking, a small minority have probably been messing around with LP covers in this way, in private, ever since the dawn of the gramophone. Folks do get up to all sorts behind closed doors. But not until 2007 did the activity acquire a universal name and start to spread like wildfire. The phenomenon began at the Buffalo Bar in central Cardiff.
It is hard to imagine this inconspicuous drinking hole as the seedbed for a side-splitting international craze, plonked as it is in a sober street dominated by a grey gothic church and the red-brick offices of surveyors, solicitors, planning consultants and estate agents. But it was at the Buffalo that, one spring evening, a locally based Englishman called Carl Morris was fatefully spinning records as a DJ. "I was playing this eclectic mix of tunes," remembers Morris, 27, as he sits in the bar a year and a half later. It may have been the hand of destiny that decreed he was limited to playing old vinyl records, as there was no facility here for playing CDs. One of the discs he had with him was Paul McCartney's third solo album, McCartney II, whose cover has a particularly quizzical head-and-shoulders shot of the ex-Beatle. "I was just goofing around with the sleeve, pretending to be Paul McCartney. I probably attempted a Liverpudlian accent. People tell me I'd done things like that before – only this time, I had a picture taken of me with the sleeve. Later I started experimenting, to see what other sleeves worked."
Like pornography and Mr Bean, sleevefacing speaks a visual language and is thus instantly international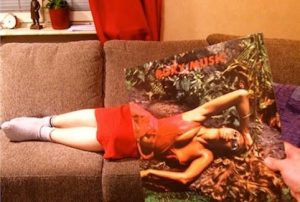 Beside Morris today is his friend and fellow Cardiff-based Englishman John Rostron, 36, who recalls how he quickly caught on to the new trend, bringing piles of album sleeves to the Buffalo for further fun photography. Rostron co-founded the My Kung Fu record label with Morris; he also runs a music promotions company called Plug Two, and like Morris has the sort of formidable record collection that comes in handy for such antics. "To start with, we put the pictures up on a web page for the record label," says Rostron. "But then we started putting them on Facebook, and that's when it really took off. It was Carl who came up with the name 'sleeveface'."
"I remember trying to think of a name before I went to sleep one night," says Morris. It can't be long before it enters the OED: Google "sleeveface" and you'll get around a quarter of a million matches.
By the time Morris and Rostron had set up a dedicated Sleeveface website, they had Uncle Tom Cobleigh and all fishing through their vinyl, setting up their own illusions and sharing them on the net.
It helps that, like pornography and Mr Bean, sleevefacing speaks a visual language and is thus instantly international. And people have been quick to grasp the concept, says Morris. "It's interesting when people from another country get into it. We had a spike of South American people doing things with all these covers that were totally new to us." Rostron describes a visit to France when he met, by chance, a group of "pochette de disque" enthusiasts who held sleeveface parties. "And they treated me like a famous person."
We like the way it's become an activity for whole families. Rather than going to Center Parcs, they sleeveface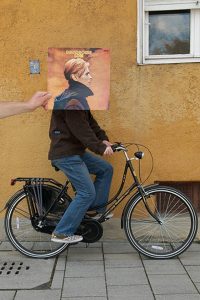 For those who are still confused by the mechanics of the phenomenon, Morris and Rostron have laboured to produce a careful verbal definition. So sleevefacing is officially "one or more persons obscuring or augmenting any part of their body with record sleeve(s) causing an illusion". But in fact, the rules of the game have grown empirically and consensually rather than being laid down from the start. Dressing up and using props and unusual locations are allowed – even encouraged. "Now and again someone would use image manipulation, and it just didn't feel right," says Morris. "It just seemed natural to have a rule that you shouldn't Photoshop." The "one or more persons" stipulation has already been widely broken, with family pets entering into the sleeveface spirit – one of the best examples being Barbra Streisand's fluffy head, courtesy of her Greatest Hits Volume 2, grafted on a black labrador. "Somebody did a Leonard Cohen one using a cat's body," says Morris. "But I find it quite odd when people use babies. There's a Johnny Mathis one with a child's body, and because Johnny Mathis looks a bit childlike in the picture, it's a little bit disturbing."
"But we like the way it's become an activity for whole families," adds Rostron. "Rather than saying 'Let's go to Center Parcs,' they sleeveface."
"There's one guy who has done a whole set of pictures on the theme of 'Barry Manilow goes on vacation'," says Morris, "and he's had his whole family sleevefacing with several identical sleeves, in all these different locations."
Apart from anything else, sleevefacing is a new way to meet people, say its inventors. "We know this woman who's got into it," says Rostron, "and she used to do flash-mobbing. But she says you'd just turn up, do something funny and leave, so she didn't get to meet anybody. But sleevefacing is more social."
John Travolta probably never imagined that people would one day be laughing at his head and shoulders positioned on a woman's body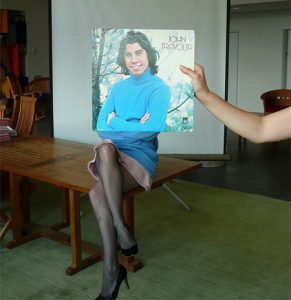 If these pictures weren't so funny, you could call them "conceptual art", sell them to Charles Saatchi and enter them for the Turner prize. And it's curious that this new branch of silent comedy has emerged from the world of audio. David Bowie, whose frequent self-depiction on his album covers has made him one of the most popular sleeveface subjects, has called it "the best sight gag in ages". But why, exactly, is it funny? One reason may be that it subverts familiar celebrity images that were originally intended to be admired, respected and taken seriously. Even John Travolta, so broad-minded that he subscribes to an alien-fixated religion, probably never imagined that people would one day be laughing at his head and shoulders positioned on a woman's body.
Some of the humour may also derive from what the philosopher Henri Bergson, dissecting comedy a century ago, called "the momentary transformation of a person into a thing". Other cultural phenomena that have strayed into this territory include "living statues" – those pitiable people who paint themselves entirely in one colour and stand stock-still to entertain the less demanding tourists in London's Covent Garden – and those cheesy lifesize cartoons you used to find on British seaside piers, with holes for people to pop their heads through.
There may still be the odd soul in the world, even in the place where it all began, who hasn't heard of sleevefacing. During the interview at Cardiff's Buffalo Bar, Morris explained that when he was deejaying the night before, he was fooling around with a 12-inch single by one of Britain's best-loved female talents. "I was sleevefacing with Kate Bush last night," he announced with a straight face, drawing confused and envious glances. ♦
Sleeveface: Be the Vinyl, by Carl Morris and John Rostron, is published by Artisan Books.
© 2014 Tony Barrell