Tony Barrell talks to Ronnie Wood about paintings, collages… and rock'n'roll!
THE SUNDAY TIMES, 2004
Ronnie Wood is in a state of intoxication in the main bar of London's Theatre Royal, Drury Lane. It's not alcoholic intoxication — he's been off the booze for months. But as he shuffles around the posh red carpet in his furry Ugg boots, mobile phone clamped to his ear, it becomes clear that the 57-year-old "baby" of the Rolling Stones is having an exciting day. "You won't believe the staircases!" he enthuses into the phone. "We've attacked them with 15 huge pieces today. Beggars looks fabulous, and The Ballet looks larger than life…" He pauses to listen to the person at the other end. "Exactly, Madeleine," he continues, "and who do I have to thank? You, babe. It's the most wonderful experience. People are coming up the stairs and they're already stopping…"
It's true. Theatre-goers arriving for tonight's performance of the Mel Brooks musical The Producers are pausing to study the grand framed canvases that have suddenly appeared on the walls inside the building. A few of them are lingering for so long in front of the one entitled Beggars Banquet, they are in danger of missing curtain-up. The stars of this particular art work — named after their album of 1968 — are the Rolling Stones themselves, including a sybaritic Keith Richards eating a bunch of grapes. These can only be Ronnie Wood originals.
"Lovely to speak to you, darlin'," says Wood, and ends the call. Afterwards he is full of praise for his patrons Madeleine and Andrew, who have given him the artistic run of the theatre; it is now "the home of his paintings", Madeleine has told him. To Madeleine and Andrew, of course, this lovely old theatre is just a small part of a breathtaking theatrical property portfolio. They are Lord and Lady Lloyd-Webber.
All of my family, right back to the 1700s, as far as I've traced them so far, have been on the barges, as navigators or helmsmen or whatever
Many people who stand at this bar during the interval will be hooked on a fun new game. Hanging against a plush red curtain on the back wall is a Wood triptych showing a crowd of famous diners at the Ivy, the fashionable London restaurant. Some of these people are very famous and very recognisable — look, there's Melvyn Bragg, and here's Cilla Black — but others have the potential to trigger long debates. Is that really Kate Moss? What's Salman Rushdie doing out and about? Wood rattles off a list of the assembled celebrities, which is much too fast to follow but helps me locate Naomi Campbell, who is leaning over to have her glass refilled, and Mick Jagger and Jerry Hall: "Look, Jerry's halfway standing up, saying, 'Who are you talking to now, Mick?'"
The triptych is a Lloyd-Webber commission, and Wood received clear instructions about which Ivy regulars should appear; however, he has been allowed some artistic licence. So a pale-eyed Afghan refugee girl, from a much-reproduced 1983 National Geographic photograph, lurks amid the celebs. "She's never been to the Ivy." And who is that standing near the middle in the red dress? "Oh, I drew this big bum," explains Wood, "and I didn't know who it belonged to. I decided it was J.Lo, so there she is."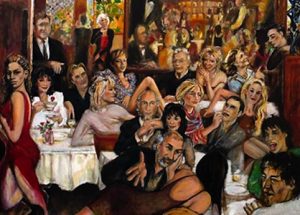 Wood says he was at the Ivy only the other day, "and it was just like sitting in my painting. A lot of these people were there". He takes me out of the bar and on a whistle-stop tour of his other pictures. He has used sexual discrimination: by the ladies' toilets he has hung pictures of his wife of 20 years, Jo, and his daughter, Leah, and outside the men's loos is a painting of his sons, Jesse, Tyrone and Jamie. "And these are my parents," he says, indicating a work depicting barges in Paddington Basin. "Because I come from the canal barges." Suddenly it all fits into place: this wiry man with his deep-brown gypsy eyes, wild dark hair and charming smile, this archetypal rock'n'roll outlaw, is descended from a long line of Romany boat people.
"I was one of the first to be born on dry land," Wood elaborates three days later, when the restless Stone can be pinned down for a proper interview at his house in Kingston-upon-Thames. "All of my family, right back to the 1700s — as far as I've traced them so far — have been on the barges, as navigators or helmsmen or whatever." His father, Arthur, was born on a barge called the Antelope; his mother, Elizabeth, on the Orient. They worked for a contractor called Sabey & Co, hauling timber and other products up and down the canals between London, Manchester and Stratford-upon-Avon. "During the war my dad never had to go through his national service, because he was transporting the raw materials to build the tanks and artillery." Though the Wood family had settled on terra firma by the time Ronnie was born (on June 1,1947, in Hillingdon, Middlesex), his father stayed in touch with the barge people. "When I was very young, he'd take me fishing on the canals and we'd go and see his pals on the boats. I remember lunches down in the cabin, with condensed milk. I remember the beautiful, murky smell down there, and the engines going, just travelling along the canals."
My mum made crinoline ladies on glass. She'd paint black outlines and fill them in with coloured papers and toffee papers, making up collages
Both of his brothers went to art school, and they set up a hip 1950s musical scene in the back room of the family's council house in Yiewsley, Middlesex. "I was still in grey flannel shorts, and I'd see all these wonderful-looking women and all these guys with sunglasses and drainpipe trousers." All kinds of instruments would be played there — from comb-and-paper to banjo and trombone. "When there was no one at home, I'd get in and bash away at the drums, try a bit of trombone and banjo and guitar." But the guitar-hero-to-be would play none of these instruments at his debut public performance in 1957. Ronnie played washboard with his brother Ted's outfit, the Candy Bison skiffle group, in the intermission between two Tommy Steele films at a local cinema.
As you'd expect, Wood, as famous now for his paintings as for his music, also has early art memories. "I used to join my mum when she made crinoline ladies on glass. She used to paint black outlines and then fill them in with coloured papers and toffee papers, making up collages. It was wonderful. She used to hand-tint black-and-white photographs, as well, very subtly."
How different things might have turned out if Wood had decided to become a professional crinoline-lady collagist rather than a guitarist. But brother Art turned little Ronald on to American blues legends like Muddy Waters and Howlin' Wolf, and there was a certain pop band Ronnie would run home from school to watch on the family's black-and-white TV. Like him, they were Londoners; and like him, they loved Muddy Waters — so much so that they had named themselves after a song the bluesman had performed. They were the Rolling Stones. "I always used to say to my mum, 'I'm gonna be in that band,'" remembers Wood. Did she believe you? "Yes, she did — and my dad did. He said, 'You want to look like that, son, go right ahead.'"
If it wasn't for all the drink and drugs he has consumed in his life, and all the wild and decadent sights he has seen in his 30 years with the world's greatest surviving rock band, Ronnie Wood could be the hero of a classic Walt Disney cartoon. He wished upon a star, clung to his dream, and in the end it happened: he was asked to join the Rolling Stones. "Yeah," he says, "I'm a prime example of 'Your dream can come true if you stick with it hard enough.'
When Jagger and Richards have had their petulant standoffs, as in the uphill years of the 1980s, Wood has reconciled them
"It was the same with my art work and Adrian Hill's Sketch Club," he says, another boyhood art memory surfacing. Sketch Club was an after-school BBC TV show in the late 1950s and early 1960s, which would judge and show pictures painted and crayoned by its young viewers. "I used to try every week, and then I got one shown on TV — 'Ronnie Wood from Yiewsley'. Then I got more and more on the TV, and finally I won the prize one year, and I met the man himself — I went to an exhibition with Adrian Hill in High Wycombe." He still sounds flushed with pride. His winning picture was of a cinema audience recoiling from a horror film; he wishes he still had it.
In 1963, Wood followed both his brothers into Ealing art college — then, like many similar institutions, a breeding ground for pop groups. Later, in his early twenties, drafted into a band called the Creation in 1968, Wood found himself combining art and music in a very literal way. One of the band's stage favourites — a No 36 single two years before — was 'Painter Man', which required him to play guitar with a violin bow and manipulate a paintbrush as well. "I can't believe that I actually did that," he says now, "but I did and I enjoyed it." In 1969 he was in at the inception of the band that became the Faces, joining Ronnie Lane, Ian McLagan, Kenney Jones and, of course, Rod Stewart — with whom he had previously been in the Jeff Beck Group — for six years of rollicking rock'n'roll and laddish behaviour. "We were getting so ripped every night. We were just about recovering in order to go back on stage again and get ripped again — just travelling and partying all of the time."
The strange thing about Wood and the Stones, the quirk that sets you wondering about destiny, prophecy and portents, is that many years before he joined in 1975, a lot of people — even famous musos — thought he was already in the band. Wood says he entered London's Speakeasy club in the 1960s and was greeted by Muddy Waters crying, "Hey, it's the Rolling Stones!" and giving him a big hug. Waters wasn't all that brilliant with names — "He used to call Mick 'Micky Jaguarrrr'," laughs Wood — but there was also a certain resemblance between Wood and the Stones guitarist Keith Richards. "Chuck Berry too, he used to think I was Keith, and I'd say, 'Look, I'm that other bloke.'"
Wood was lucky to find himself in exactly the right place at the right time — almost. In late 1974, he was at the same party where the guitarist Mick Taylor told Mick Jagger he was leaving the Stones. Jagger asked Wood there and then, but he declined: "I'm not going to split the Faces up," he said loyally. However, "Woody", as he was affectionately known, was a shoo-in for the job — his raunchy, blues-based guitar style, as well as his characterful English face, fitted perfectly — and after he heard Rod Stewart was quitting the Faces to go solo, he was off on the adventure of his life.
As the fan who joined the band, Wood believes one of his roles is to remind the Stones of their overlooked back catalogue of songs. "Often at rehearsals I get them to play 'Come On', which was their first single. They go, 'We don't wanna play that.' But I say, 'You're playin' it,' and it's great to hear it again. I say, 'You've got to listen to me — I'm your No 1 fan.'" He has also carved a niche as the great diplomat in a volatile, hair-trigger band that has had as many internal conflicts as hit records. When Richards and their former bassist Bill Wyman were refusing to talk to each other on the band's 1978 American tour, it was Wood who brought Wyman to Richards's room to clear the air. "Woody's come along and pulled both sides together," Wyman said later. "He's the reason for the band getting closer… He's fabulous." When Jagger and Richards have had their petulant standoffs, as in the uphill years of the 1980s, Wood has reconciled them. "When they've come within that much of killing each other [he holds his thumb and forefinger a few millimetres apart] or never being together again, I've got them back on the phone together — on a few occasions. I just have such an admiration for the band, I wouldn't let it fall apart."
He went on superhuman benders with Peter Cook, Graham Chapman and Keith Moon, and shared a flat with the frequently spaced-out Jimi Hendrix
Not that he is a saint in a band of sinners. In his youth he was drawn to precisely the wrong kind of people, going on superhuman benders with Peter Cook, Graham Chapman and Keith Moon and sharing a flat in London's Holland Park with the frequently spaced-out Jimi Hendrix. By 1984, according to the Stones biographer Stephen Davis, Wood's cocaine habit was costing "$5,000 a day" to feed. He has been on and off the wagon more often than Calamity Jane; he has had two drying-out spells in the Priory (in 2000, and again this year) and another in Cottonwood de Tucson, a super-strict recovery centre in Arizona (in 2002).
He recently confessed that he "can't be left unsupervised", so it seems that Jo, the glamorous blonde muse he married in 1985, is perfect for him — an efficient home-maker who swears by organic food and takes her own little portable cooker on Stones tours. His new regimen involves alcoholic abstinence. The night before his Theatre Royal art-hanging, he was at the Hackney Empire to accept a UK Music Hall of Fame award for the Stones, "And there was a big champagne reception and a party afterwards, which I avoided. I just did my job — accepted the award — and came home. But in the old days, I would've been there from 6 o'clock in the evening to 3 o'clock in the morning.
I can't do that any more." Couldn't he still have partied and had soft drinks? "For someone like me, it doesn't work like that. So I stay away from wet places, as we call them. It's quite a nightmare, really, but I'm doing the best I can." A trainer calls on Tuesday for some t'ai chi, and on Thursday for a spot of "boxercise" — or "kick-boozing", as he calls it. "I find that really helpful for the noodle," he says, pointing at his head. "It gets your natural endorphins going and you feel all psyched up — whereas I used to do that through coke." The only addiction he can't seem to shake is tobacco — despite having been warned of the real danger of emphysema.
In the old days, I never dreamed of painting unless I was out of my brain. These days I have a more focused view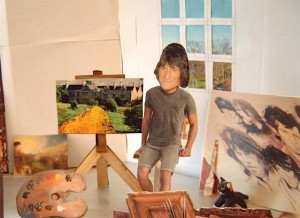 His love of stimulants used to affect his art as well as his music. "In the old days, I never dreamed of painting unless I was out of my brain. But these days I'm enjoying painting with a more focused view." The Beggars Banquet piece, he reveals, emerged from a long drunken stupor over Christmas 1988 and into the New Year of 1989, when he and his family lived in Wimbledon. "It was a couple of weeks' work. There was always a party going on, and I'd paint during the party. I'd had a few, you know. And I look at it now and think, 'How did I do that?'"
He loves painting the views from the Irish farm he bought 15 years ago in Co Kildare, and the horses he keeps in a horseshoe-shaped block of stables there (and he is immensely proud of winning a small-breeder-of-the-year award in 1998). But his most famous subjects are, of course, the Stones. He must have painted Mick or Keith or Charlie as often as he has played 'Jumpin' Jack Flash' or 'Honky Tonk Women'. Do they like his art? "Yeah, they love it. But they never used to. They used to say, 'You're doing it all wrong. Stick to playing guitar.' It was like when I took up saxophone: they were going, 'Oh, forget about it!' I ended up playing on five or six songs in the brass section, with all the grown-up brass-section boys. And it's like what I did with the pedal steel guitar: it's a hard instrument to master; it's like driving a helicopter. But I did it, I accepted the challenge, and I play it on country-and-western albums now."
I have heard that the Stones' drummer, Charlie Watts, is an artist too, obsessively drawing every hotel room he stays in. "Yeah, every bed he's ever slept in; every meal he ate. He's been doing that for many years. It's quite an inspiration for me, because he's so minimalistic and so simplistic. He says, 'You've overworked that one — you should've kept it how it was when you had the first line.' Which is good advice."
He wants to do more sculpture, and has collected a stack of driftwood and junk to incorporate in experimental pieces
Today, Wood has been back at Drury Lane to install one of his sculptures, a bronze of "an Indian struggling in the murky waters with a horse". He wants to do more sculpture, and has collected a stack of driftwood and miscellaneous junk — such as old mobile phones — with the idea of incorporating them in experimental pieces. Is he going to create something like the work of Marcel Duchamp, who installed an ordinary, factory-made urinal in a gallery and called it art? "Yeah, but I wouldn't just leave it as a urinal. I'd build some more shit around it!" he guffaws.
A natural musical collaborator — even his "solo" albums brim with hired talent, from Mick Jagger to Bob Dylan — Wood is now trying to list all the famous musicians he has played with during his life. This is because he is planning to depict them all in a single painting. Their names are scribbled all over a white board, about 4ft by 5ft, propped in the new "art house" he is fitting out beside his home. Among the luminaries are "D Bowie", "Prince", "Bob Marley", "Lonnie Donegan", "Cheryl Crow" (sic) and all of the Beatles. Near the bottom he has scrawled the title — "My World" — and underneath that: "People I have played with". Is he worried about missing anybody out of this magnum opus? "Yeah, I wake up in the middle of the night and go, 'Oh yeah! Toots & the Maytals!'"
Art isn't just a pop hobby for Wood, like Celine Dion's golf or Ozzy Osbourne's quad-biking: it's a second career. His paintings have fetched tens of thousands of pounds, topping up his reported fortune of £55m. Britain's snootiest art critic, Brian Sewell, called him "an accomplished and respected wildlife painter". Of course, not everybody likes the Wood oeuvre: one newspaper critic has called it "feeble figurative work", and when Lord Lloyd-Webber wanted the Ivy picture in an exhibition of his collection last year, the Royal Academy banished it to the café. "A few people have said, 'How dare this musician try to paint and get away with it?'" says Wood. "But I have just one answer: hard luck, mate, I can paint. I believe that my painting's good."
The addictions, then, are probably not compensation for a lack of self-esteem. But he sounds a little less secure when he is asked how history will remember Ronnie Wood, Rolling Stone and jobbing artist. "The man who played and painted for millions," he says, "and no one noticed him." There is a pause after this self-epitaph; then Wood explodes into a fit of cackling, and reaches for his cigarettes. ♦
Ronnie Wood's website is here.
© 2014 Tony Barrell
Tony Barrell is the author of several books on music, including Rock'n'Roll London and The Beatles on the Roof.