A Christmas poem by Tony Barrell

On receiving word from Santa,
Vixen went into a canter,
Took off from the ground below
And headed skywards in the snow.
She was many furlongs distant
When she realised in an instant
She was on her own today –
She'd come unhitched from Santa's sleigh!
"Heavens, I must turn around,
Find my deer friends on the ground.
They cannot all by themselves
Lift those presents from the elves!"
So she turned her body gently
But the snow came down intensely.
Soon poor Vixen went astray:
"It seems that I have lost my way!"
Tears fell from her mournful eyes
As she began to realise
She was lost as lost could be:
"Oh, what is to become of me?"
Now you may think if reindeer fly
That there is nothing they can't try.
Don't they have other super-skills
To solve all problems, heal all ills?
But Vixen, she was quite mature,
How old she was, she wasn't sure,
And age had dimmed her memory
Of powers that could set her free.
For once upon a time this deer
Could face an army without fear,
And find lost treasure with her nose,
And zip through time whene'er she chose.
If only she could snatch a spark
Of wisdom in this wintry dark,
Then Vixen might just find her way
And live to fly another day.
But what was this before her eyes,
Approaching now and gaining size?
Another reindeer, just like her,
With antlers and brown silky fur!
"Oh, Donner? No… Oh, Blitzen? No…
It's not one of the deer I know.
But only they have means of flight –
This apparition can't be right."
Her wonderings came to an end
When the stranger spoke: "I am a friend.
Please let me tie these reins on here;
I'll guide you home. Please have no fear."
And Vixen had no fear, she found:
In fact, she felt quite safe and sound.
The stranger was a gentle doe
Whom Vixen thought she ought to know
The reindeer pair flew through the night,
Turned quickly left and sharply right,
With Vixen firmly tied behind
And one big question on her mind.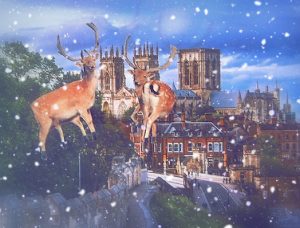 Eventually her patience broke.
"Who are you?" Then the stranger spoke:
"Don't you think I look like you?"
"Yes," said Vixen. "Yes, you do."
The doe said: "Many years have passed
Since you were young and strong and fast.
You flew through time to see what lay
For you beyond the present day.
You found a reindeer like yourself
But older, and she needed help.
You took control and saved her hide
And took her on her homeward ride.
And now you are that troubled doe
And I am you from long ago,
So back we go to see your friends.
This timeless story never ends."
Dumbstruck Vixen recognised
The memory with great surprise.
The snow kept falling as they flew
O'er hills and forests that she knew.
The North Pole is a freezing place,
But Vixen saw it and her face
Lit up, and then she saw that here
Were all the other flying deer.
Donner, Rudolph, Prancer, Blitzen,
All rushed up to greet dear Vixen.
"And who's this other deer, pray tell?"
Asked Dancer, "for she flies as well!"
But when they turned again to see,
The doe had vanished magically.
"That was me from way back when,"
Said Vixen. "She went back again."
Santa scratched his curly head.
"You're tired, Vixen," Santa said.
"You shouldn't fly now in this state.
The presents will just have to wait."
Vixen smiled and plodded home
To the reindeer's big snow dome,
Then lay down her sleepy head
In her cosy reindeer bed.
And that is why, that Christmas morn,
Many children looked forlorn.
Christmas presents were delayed –
But only until Boxing Day. ♦
© 2014 Tony Barrell