Many young lives were changed when Roxy Music made their debut on Top of the Pops in 1972. Tony Barrell remembers it well
APRIL 2018
I'm convinced that someone at the BBC saw the music paper Melody Maker when it came out on August 17, 1972. There was a serious swipe at the well-known BBC1 chart programme, Top of the Pops, on the letters page. "Most of the people who play on the show are so unexciting that it might just as well be radio," wrote MM reader Jacquie Fash of Sundon Park, north of Luton. "I'd like to know what is so appealing, visually, in seeing Donny Osmond floating around a kids' playground with such a moronic expression."
Personally, I'm intrigued by the idea of young Donny "floating around" a playground – had the Mormon megathrob mastered the ability to defy gravity? But Jacquie had something more important to say. "Also," she continued, "what is wrong with Roxy Music? All the critics are currently raving about them as the greatest thing yet; although they have a great new single out, 'Virginia Plain', we hear nothing of them on the programme that apparently really matters to record sales." It was true: influential pop writers such as the august Richard Williams were falling over themselves to praise this sensational new band, whose self-titled debut album had hit the racks in June, but there'd been no sign of Roxy on Britain's top pop show. And Jacquie's letter appears to have had the desired effect, for the BBC booked Roxy Music for the following week's edition of TOTP. The music press truly was a powerful force back in those days.
The previous week, Roxy had played a live radio session for John Peel and supported David Bowie at the Rainbow in London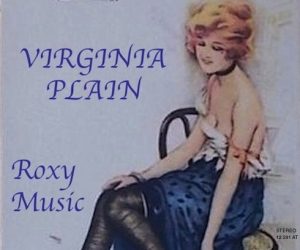 The show was recorded on a Wednesday and broadcast on the following evening. So on August 23, Bryan Ferry, Eno, Phil Manzanera, Paul Thompson, Andy Mackay and Rik Kenton all trooped off to BBC Television Centre in the bleak west London district of White City. A lot of the people rushing around the city that day were headed for the famous Tutankhamun exhibition at the British Museum, which had a record 1.6 million visitors before it closed in September. Roxy were having a busy time of it too – the previous week they'd played a live radio session for John Peel as well as supporting David Bowie at the Rainbow in London. Today's performance of 'Virginia Plain' would take place in one of Television Centre's light-entertainment studios.
Sharing the bill with Roxy on the programme were Mott the Hoople (performing 'All the Young Dudes'), Slade ('Mama Weer All Crazee Now'), Lynsey de Paul ('Sugar Me') and the female dance troupe Pan's People, who were jigging around to a cover version of the old Motown song 'Too Busy Thinking About My Baby' by the US band Mardi Gras. So Ferry achieved one of his ambitions that day – because he later said (perhaps not entirely tongue-in-cheek) that his motivation for writing a hit single was the chance to meet Babs, Dee Dee and the rest of the girls.
The show would also feature a recording of Alice Cooper performing 'School's Out', which wouldn't have pleased Mrs Mary Whitehouse. The self-appointed busybody of broadcasting had already written a letter that week to Bill Cotton, the BBC's light-entertainment supremo, "to express the gravest concern" over all the airtime the Beeb had given to the disc by the American shock-rocker. "For weeks now 'Top of the Pops' has given gratuitous publicity to a record which can only be described as anti-law and order," she carped. "Because of this millions of young people are now imbibing a philosophy of violence and anarchy. This is surely utterly irresponsible in a social climate which grows ever more violent." The bespectacled 62-year-old curtain-twitcher warned that "if there is increasing violence in the schools in the coming term, the BBC will not be able to evade their share of the blame".
Viewers of the ITV channel in London were treated to Reg Varney's antics in On the Buses
On the morning of Thursday, August 24, the music paper Sounds was published, featuring a long interview with Eno. And that evening, a full moon shone over a balmy Britain. God-fearing fans of classical music were tuning in to Radio 3 to hear Vespers of the Blessed Virgin, composed by Claudio Monteverdi in the 17th century and broadcast direct from Westminster Cathedral. Lovers of radio drama chose Radio 3, which was broadcasting a play about female agents of the Special Operations Executive during the Second World War. People watching BBC2 could watch international cricket followed by the news, and viewers of the ITV channel in London were treated to Reg Varney's antics in On the Buses at 6.45, followed by a 1971 TV movie, Who Killed the Mysterious Mr Foster?, in which Ernest Borgnine played the western lawman Sam Hill "making a comeback from the bottle" (according to the TV Times).
But at least 10 million people made the right choice and switched to BBC1 for Top of the Pops. After the usual theme tune, we saw happy young people dancing in Studio 4 to Hawkwind's 'Silver Machine', and then Slade came on to kick the show off properly. Unfortunately, it's not possible for most people to see the whole programme any more, owing to the fact that it was introduced by a multiple sex offender, whose ghastly deeds were only fully brought to light after his death in 2011.
The whole lyric spoke of Ferry's art-school background and passion for Americana. He packed that song with as much glamour as is humanly possible
Roxy Music appeared more than halfway through, just as Ernest Borgnine was resolutely recorking a bottle of Jim Beam and sprinting down the sidewalk after a murder suspect on ITV. And millions of people across Britain sat, mouth agape, as sparkly-eyelidded Bryan Ferry and his exotically garbed companions tore into a song that almost defied description. 'Virginia Plain' wasn't a number with verses and a chorus, but a torrent of imagery from Ferry about casinos, flamingoes, actresses, hipsters and drive-in movies. The whole lyric spoke of his art-school background and passion for Americana. He packed that song with as much glamour as is humanly possible, creating an aural collage of allusions to beautiful and esoteric ideas that were mystifying to people like me, still at school and not entirely sure where Acapulco, Rio or Havana were. He opened up "exclusive doors" that will never be shut again. And what about the rest of the band? The guitarist wore shades, there was a long-haired man dressed like a circus strongman on drums, and a blond bloke in a fur coat and glittery gloves was fiddling with electronics.
Roxy didn't really need any help from the BBC, but they got it. They performed in front of peculiar backdrop artwork that featured little people resembling elves or leprechauns in a fantasy landscape (see below), and the cameramen made things even weirder by tweaking the colours of the whole scene, turning the group bright green at one point, just for a laugh.
There was no going back now. I had been exposed to Roxy Music and lost a kind of virginity. I immediately became a fan, got the album and couldn't stop talking about them in the playground. They filled a gap for me that had been created by the breakup of the Beatles. And when I grew up a bit and started wearing long trousers, I went to see them live, over and over again. I wrote fan letters to members of the band, and later was lucky enough to interview a couple of them. When that happened, I was just as excited as on that Thursday in 1972 when Roxy Music changed my life. (By the way, it seems a happy coincidence that August 24 is celebrated by some Americans now as International Strange Music Day.
Back in the early Seventies, Earth was a different planet from the one we inhabit today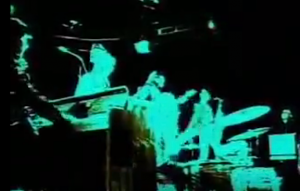 It's often said that Roxy seemed to arrive from another planet. But back in the early Seventies, Earth was itself a different planet from the one we inhabit today, as shown by the musical entertainment on offer. That evening, thousands of people missed that edition of Top of the Pops because they went out to gigs. They went to the Talk of the Town in London's West End to see the New Seekers, who sang swingolanga hits like 'I'd Like to Teach the World to Sing (In Perfect Harmony)', or they went to Margate to see Gary Glitter, or to Manchester to see Andy Williams croon 'Moon River'. Or they went to the Growling Budgie (seriously) in Ilford, Essex, to enjoy the noodlings of the neo-medievalist prog band Fruupp. I feel sorry for those people, and very lucky to have stayed at home. ♦
© 2018 Tony Barrell
Watch Roxy Music's iconic TOTP debut HERE.
Tony Barrell is the author of several books on music, including Rock'n'Roll London and The Beatles on the Roof.