This photograph of David Bowie reveals a superstar in the making. Tony Barrell uncovers the story

NOVEMBER 2017
People who try to guess the date of this photograph are often several years off the mark. Here's David Bowie, looking every inch the star, lolling against the Georgian railings of a London square, smoking and reading a newspaper. It looks pre-Ziggy Stardust, so are we in the early 1970s? The late 1960s?
If we could read the date on that broadsheet in which he appears so engrossed, it would confirm that this was August 1965. Bowie was just 18 years old, and he wasn't Bowie yet: he was the leader of a band called Davy Jones and the Lower Third, who are all pictured here. The quartet are posing for photographs to promote a new single, 'You've Got a Habit of Leaving', released on the Parlophone label. Parlophone, which famously had the Beatles on its roster, was part of EMI – hence the location of the shot in Manchester Square, close to EMI House. Back in the mid-1960s, when EMI artists needed some quick publicity material, they often posed for house photographers near the company's London headquarters. More exciting or artistic shooting locations would have required transport, time, and a bigger budget. For the cover of their first album, the Beatles didn't even make it into the street: they stood above a stairwell in EMI House itself.
Davy and the Lower Third had recorded 'You've Got a Habit of Leaving' in July 1965 at IBC Studios in Portland Place, overseen by the producer Shel Talmy. The disc was credited to "Davy Jones" only, and he not only sang on the record but played saxophone and harmonica. The choice of producer and studio was likely influenced by the boys' affection for mod groups like The Who, whose single 'Anyway, Anyhow, Anywhere' had recently been produced by Talmy at IBC. Around the same time that Davy and his colleagues were cutting their disc, the Small Faces' debut single, 'Whatcha Gonna Do About It', was mixed at the same studios.
Bowie parted company with EMI and this photograph was filed away in the vaults and forgotten
But Davy Jones' single was a flop, finding itself unable to compete effectively with the latest chartbusters such as 'Help!' by the Beatles, 'I Got You Babe' by Sonny and Cher, and 'Everyone's Gone to the Moon' by Jonathan King. Bowie soon parted company with both EMI and the Lower Third, changed his name and moved on to the next stage of his haphazard pop apprenticeship, and this photograph was filed away in the vaults and forgotten.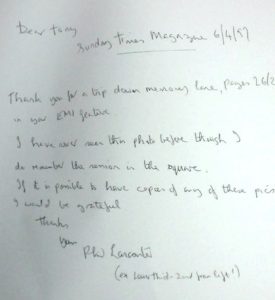 In 1997 I was working on The Sunday Times Magazine when we published a series of old black-and-white EMI publicity photographs, including this one. The shot was noticed by a former member of the Lower Third, the drummer Phil Lancaster (second from left in the picture), who sent me a handwritten letter asking for copies of the photo (see right). "Thank you for a trip down memory lane," he said. "I have never seen this photo before though I do remember the session in the square."
The mod-style clothing they were wearing came from Carnaby Street, including their espadrille-like footwear
I wrote back, giving Phil some contact details for EMI's photo librarian, plus an extra copy of the magazine, and asking for more information on this extraordinary photograph. Phil sent another letter in reply, recalling that the mod-style clothing the band were wearing had come from a shop in Carnaby Street, including their espadrille-like footwear, which had corduroy uppers and rope soles. And he revealed that the object he was holding in the picture was a genuine bird's feather, which he had found in the square or nearby. "We were all for creating an effect in those days – see David's fag in corner of mouth," he wrote.
It is surely that dangling ciggie that makes the future Ziggy look older than his years. The 18-year-old looks more his age in this other photograph (below), likely taken on the same day.
While David Bowie did use cigarettes as a theatrical prop, in photographs and on stage, he also became addicted to them behind the scenes: he was a heavy smoker for much of his life. In an interview in 1997 (the same year of my correspondence with Phil Lancaster), he explained how he had started at a young age: "Mine was a house of smokers… Both parents smoked a considerable number of cigarettes. I think it was Senior Service, and then when my father had a better job it became Weights. And I'd steal his. I think it was the rite of passage through to adulthood that appealed to me – that was the thing about it."
On August 5, 1965, Nasa officially announced that there was no life on Mars
At the time of the Manchester Square photograph, in August 1965, the British government was moving to curb the nation's nicotine habit. From the beginning of that month, advertising cigarettes on UK television became illegal. Bowie may have been reading about this in the newspaper he clutched in the square; or perhaps he was absorbing some more profound and distant news. What could this have been? Well, on August 5, 1965, after studying photographs of the Red Planet taken by Nasa's Mariner 4 space probe, the American space agency officially announced that there was no life on Mars, and it was unlikely that there ever had been. And 16 days later, the US astronauts Gordon Cooper and Pete Conrad took a trip on a Gemini spaceship, orbiting the Earth in an eight-day mission that broke the record for the longest manned spaceflight. Conrad summarised this fantastic voyage as "Eight days in a garbage can." Interesting…
Less than two years after this photo shoot, Bowie would set up home quite close to the railings he had leaned against. He moved in to a flat at 39 Manchester Street with his manager Ken Pitt, and forged ahead with the musical career that would – eventually – lift off into the stratosphere. ♦
You can hear 'You've Got a Habit of Leaving' HERE.
For more classic London music stories, see Tony's new book Rock'n'Roll London
© 2019 Tony Barrell