Tony Barrell puts one of Roxy Music's greatest songs, 'If There Is Something', under the microscope

SONG STUDY, AUGUST 2016
Roxy Music's self-titled debut album, released in 1972, includes many remarkable songs. But I believe that one stands out from the rest for its creativity and emotional potency. 'If There Is Something' is a mini-epic – a six-and-a-half-minute wonder comprising three main sections. If that makes it sound a bit like 'Bohemian Rhapsody', such comparisons are misleading: while Queen's grand statement is a proggy stop-start affair, switching tempos whenever it jolly well fancies, the sections of Roxy's opus follow each other more organically and almost seamlessly.
The title of the song comes from the first line of the lyric, which makes it the opposite of Virginia Plain
'ITIS', as we might call the song, kicks off with a nice rockabillyish guitar riff from Phil Manzanera, a sprightly little creation that is almost wasted because it's only referenced once again during the song; and then we're into the meat of the first section, which sounds like a pastiche of country music, or country rock, with an additional dose of lazy funk provided by Paul Thompson's robust drumbeats. The title of the song comes from the first line of the lyric (never repeated), which makes it a conceptual opposite of the band's debut single, 'Virginia Plain', whose title appears only, teasingly, at the very end.
Like all the other songs on Roxy Music, 'ITIS' was written by Bryan Ferry. But it differs from the vast majority of the other songs on the album, which have "lyric-free titles" – in other words, their titles don't appear anywhere in the words Ferry sings. For example, there's no mention of "Re-make/Re-model" in the song of that name, no "Ladytron" in 'Ladytron', and so on. At this point, his left-field method of naming his songs revealed his art-school education. He kept up the lyric-free titles in 1973 (with 'Pyjamarama', 'Beauty Queen', 'Strictly Confidential', 'Psalm' and 'A Song for Europe'), but soon his titles became more conventional (only 'Triptych' on the Country Life album plays this game, and nothing on Siren does).
Lyrically, the first section of 'ITIS' is a tad mysterious and unresolved. The narrator sounds as if he is experiencing a personal crisis of some kind, struggling "to find peace of mind" and to plot "a straight course". The country feel of this section comes partly from the slide guitar and plonky piano, partly from Ferry's tongue-in-cheek Americanesque vocal twang, but also from the timing of the vocal. In each bar of four beats, Ferry leaves a rest, or pause, during the first beat before singing, like this:
(REST) If there is something
(REST) That I might find… (and so on)

The phrasing resembles the verses of John Denver's 1971 song 'Take Me Home, Country Roads', in which the bespectacled American singer-songwriter also leaves a first-beat rest:
(REST) Almost heaven,
(REST) West Virginia… (and so on)

I'm not saying for a cotton-pickin' second that Ferry pinched Denver's song – the melodies and lyrics are different – but the two numbers do share this countryish phrasing device.
The restless thoughts expressed by Ferry are underlined by a busy, inventive solo from Manzanera, and then section two arrives. This features a multi-instrumental riff based on a cycle of just three notes: E flat, D and C. This new section sits on a cycle of four chords that is immediately recognisable to aficionados of the Spanish guitar: C minor, B flat, A flat, and G. This dramatic sequence – in whatever key – is widely known as the "descending flamenco progression".
The combination of the chord sequence and the riff, in spite of its simplicity, brings some of the gravitas of progressive rock to this part of the song. And extra sonic texture is added via Eno's experimental "treatment" of his bandmates' instruments, including some fairy dust over Andy Mackay's poignant saxophone lines.
Ferry comes over all horticultural, with a promise to create the perfect garden for his beloved, growing roses and a bumper crop of potatoes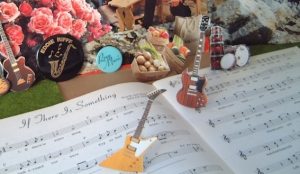 Shortly a new vocal appears, echoing the notes of the little prog riff, and now Ferry is desperately trying to express the extent of his love for somebody, who is addressed in the second person. "I would do anything for you," he sings, elaborating with poetical examples such as climbing mountains and swimming oceans. He vows to "walk a thousand miles", twice as many as the Proclaimers wanted to walk many years later. The vocal style is fervid and passionate, and it sounds as if he means it. Finally he comes over all horticultural, with a promise to create the perfect garden for his beloved, growing roses round the door and cultivating a bumper crop of potatoes. Roses are mentioned in thousands of love songs, but root vegetables? That's a rarity.
Soon we're back to the little prog riff, and some atmospheric extemporisations from Mackay, before we enter the final section. The C-minor chord is gone now, and there's a new cycle of four major chords, over which Ferry lets rip with his screamiest vocal, sounding quite unlike his normal self. Lyrically he's gone all nostalgic now, playfully encouraging his ponytailed (or formerly ponytailed) inamorata to remember the old days, "when you were young". Ferry is supported here by a chorus of male backing vocals, which is unusual in the Roxy oeuvre (if you see early Roxy photographs where one or two of Ferry's bandmates are singing into microphones, there's a good chance that they were playing 'ITIS' at the time).
As he sings about hills and trees and grass and suchlike, the song builds to a lovely climax, capped by a firmly conclusive repetition of that line "When you were young." If he'd been in more of a 'Virginia Plain' mood, that might have been the title of the song – and perhaps it would have been a better title. In 1973 the same phrase was plucked out of the air by Paul McCartney as the opening line of his James Bond song 'Live and Let Die', and decades later 'When You Were Young' became the title of a song by the Killers.
Critics have ploughed through a heap of thesauruses to sum up this extraordinary song
Reflecting recently on Roxy's early output, Bryan Ferry said: "Those Roxy Music songs feel kind of naive, but with a strong spirit. They have lots of musical changes within them, and a lot of mood changes… It's interesting the way they dart around stylistically." He could have been talking specifically about 'If There Is Something' (though being specific is just a game, we all know). Perhaps 'ITIS' benefited from the fact that it was under development in the band for quite a long time: it goes back to the days when they had ex-Nice man Davy O'List on guitar.
Critics have racked their brains and ploughed through a heap of thesauruses to sum up this extraordinary song. Here's what Philip Auslander, author of a very studious book on glam rock, had to say: "The shifts in musical style in 'If There Is Something' underline shifts in perspective and attitude from section to section of the song; it is, in fact, like three different songs joined together. The relationships between style and tone are neither direct nor uniform: the use of a country style to describe a character in existential crisis seems ironic, while the use of soul and rock styles in the final section, while self-conscious, does not. Though the overstated romanticism of the middle section is clearly parodic, it still has emotional impact. In the end, these shifts of style and mood make it impossible to classify the song in terms of either genre or tone. They create a liminal identity for Roxy Music by remaining betwixt and between a number of musical styles (country, rock, soul), emotional states (despair, nostalgia, exultation), and attitudes (sincere, parodic) without settling on one or another. Implicit in the idea of the subjunctive as the realm of 'as if' is the idea that no identity is stable – it is always possible to move from one performative position to another."
'ITIS' has prompted typically pensive Roxy fans to propose their own interpretations of the lyric. One interesting example, posted on the excellent website Viva Roxy Music, is that it's a love song outlining the three key phases in a long-term relationship: "The first phase is a young man looking for direction in his life and playing the field in search of 'somebody special'. It covers those first tentative moments of mutual attraction when they eyeball one another for the first time and everything gets set in motion. The second phase is when he has fallen head over heels in love, is laying himself bare emotionally, and offering her a future together. The final phase is years down the line, i.e. they have grown old together and he is having a nostalgic look back to their salad days when everything seemed bigger and better and anything was possible, and thinking about the leap of faith they took that set them on the path from there to where they are now."
David Bowie honoured the song with a cover version during his Tin Machine period
Whatever the hell it signifies, it's a great song, and one that Roxy Music – in all their incarnations – have enjoyed playing and messing around with over the years. The live version on the Viva! Roxy Music album is fantastic, with the addition of some searing, sustained Manzanera guitar and a violin solo from Eddie Jobson. When I saw the band at the Rainbow in London in 1974 (when I was young), they came to the end of one song and I suddenly had this prophetic feeling they were going to play 'ITIS'. I turned to one of my friends and said so. And they did! I was thrilled, and I've been thrilled to hear the song played live on subsequent occasions as well. We know Bryan Ferry still likes it, because it's often there in the set-lists of his solo concerts. And David Bowie honoured the song with a cover version during his Tin Machine period.
Whether Ferry intended it or not, 'If There Is Something' was built to last. He was in his twenties when he wrote this poignant song about ageing and nostalgia; now he's in his seventies, and the song isn't just about nostalgia – it is nostalgia.♦
You can hear 'If There Is Something' here.
And here's the Viva! live version.
Visit Viva Roxy Music here.
© 2016 Tony Barrell