Who's the burning man on that Pink Floyd album cover? Who's the model on Roxy Music's Stranded? Tony Barrell tracks down some of the mysterious people who have adorned great album sleeves
THE SUNDAY TIMES, 2007
On a chilly autumn day in 1998, an alarm clock shattered the peace of a flat in Twickenham. A beautiful but bleary-eyed 23-year-old brunette model hauled herself out of bed, remembering that she had an appointment to face the camera – and to kiss a stranger. She rummaged on the bedroom floor for some clothes, put on some eye make-up and jumped into a waiting car.
She was about to become a recording star, of a sort: one of those famous-and-yet-unfamous people who adorn the covers of rock and pop albums. Today she would join an exclusive and mysterious club, whose members include the swimming baby on Nirvana's Nevermind album, the glamorous girls on the Roxy Music sleeves, and the burning businessman on Pink Floyd's Wish You Were Here. These people are the modern equivalent of the Mona Lisa and the Laughing Cavalier: characters we know well for their appearance but whose identities are often shrouded in mystery. Years later, they often have mixed feelings about the appropriation of their identity in the name of rock'n'roll. Spencer Elden, who was the Nirvana baby and is now a teenager, recently said he finds it "kind of creepy that many people have seen me naked. I feel like the world's biggest porn star".
Me and my boyfriend had been up all night on absinthe and opium, and that faraway look in my eyes couldn't have been achieved any other way!
Our young brunette was headed for a football pitch under the Westway, the bleak elevated stretch of the A40 in west London. There, in front of the photographer Scarlet Page – the daughter of Jimmy Page – she would kiss a young male model for the cover of the Stereophonics' Performance and Cocktails album (pictured above). The photograph became familiar to millions when the album topped the charts in 1999 and her face was plastered on billboards up and down Britain, and it is arresting for a particular reason. While the kissers' lips are clearly meeting, the woman's hands are at her sides, and her eyes betray a profound indifference.
The woman's name, unknown to the record-buyers until now, is Lucy Joplin. "This is the first time I've ever talked publicly about me and that cover," she says when I track her down in north London – and then she spills a great rock'n'roll secret, unknown even to the band on whose album she appears. "I gave them something money couldn't buy that day. Me and my boyfriend had been up all night on absinthe and opium, and that faraway look in my eyes couldn't have been achieved any other way!" She was paid just £75, cash in hand. "And I blew it all on underwear and went home to my lover," she laughs.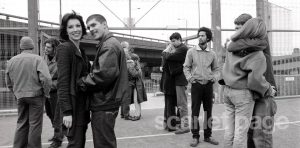 Album-cover extras like Lucy owe their fame, such as it is, to the tradition of the arty LP sleeve. Since the 1960s, many bands have decided to eschew the traditional group shot and go for way-out paintings or photographs instead: something to make them seem intellectual and enigmatic, and to lend the music an implicit quality of high art. Sometimes there is a more pragmatic reason. Rick Davies, keyboard player with Supertramp, has admitted that the band stayed off their covers because "we wanted to be around a long time, and we didn't want people watching us getting older".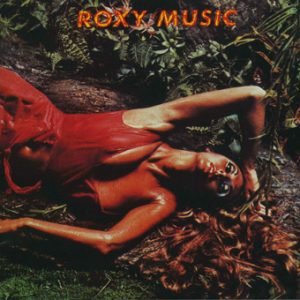 I'm very honoured to have been a Roxy girl. But I look at that picture and I think, why did they choose that shot where the dress is cutting into my armpit?
When Roxy Music formed in the early 1970s, it became the policy of this arty, glamour-fixated band to drape a female model across their gatefold sleeves. Their 1973 album Stranded has especially steamy packaging, with a barely dressed young woman sprawled amid tropical foliage (above). This was Marilyn Cole, who had been noticed by Bryan Ferry after becoming Playboy magazine's Playmate of the Year at the age of 23. "The model agency said they had a job for me, a shoot for a record cover," recalls Marilyn, who is now married to the former Playboy executive Victor Lownes. "It was at a tiny studio, somewhere off the Edgware Road in London. I'd never even heard of Roxy Music." She was welcomed by the band's fashion supremo, Antony Price, and by Bryan Ferry and a make-up artist and photographer. "I very soon understood that I was in safe hands, among some very talented people. There was a red dress hanging up, and I thought, 'Ooh, good, I'm going to get to wear a really nice dress' – because so often I'd be naked – whereupon, as I'm having my make-up done, Antony comes in and starts ripping the dress – a hole there, a slash there. I was thinking, 'Oh no.' They stuck me on this big log and explained I was supposed to be stranded in a jungle, and then they started spraying me; they sprayed my hair gold, and there was a whole mist coming over me and the dress was getting wet in all the right places." Under a contract to Playboy that stipulated that her "naughty bits" never be shown in non-Playboy shoots, she was anxious about being safely covered. "I was saying, 'You can't see anything rude, can you?' Because I wasn't allowed to show a nipple, even.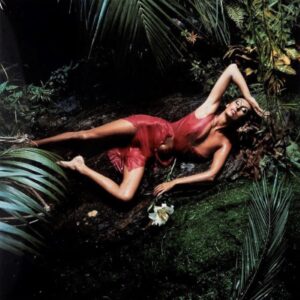 "I'm very pleased and honoured to have been a Roxy girl, because I know the aesthetic values of those album covers. At the same time, I look at that picture and I think, 'Why the hell did they choose that shot where my arm's up and the dress is cutting into my armpit?' I think Bryan said at the time that they chose that shot because my eyebrow had turned blue in the light. I thought, 'Ooh, how strange.' But the overall feeling of that cover is very beautiful."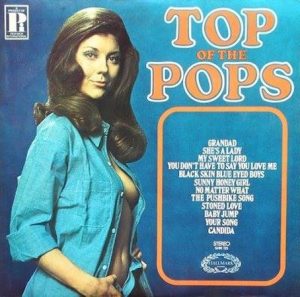 Marilyn was also a cover star for the Top of the Pops albums
Marilyn has a secret too. It has nothing to do with absinthe or opium, but it may have made the supercool Roxy Music think twice about using her back in 1973. She was also a cheesy cover star for the naffest series of long-players ever recorded: the Top of the Pops albums, available cheaply in Woolworth's, on which session musicians played appalling fake versions of current chart hits, from 'Puppy Love' to 'Chirpy Chirpy Cheep Cheep'. "When I turned up for the Stranded shoot," she says, "I thought it was going to be another 'top-20 hits' job and I'd be shaking a pair of maracas or something."
Four years earlier, another band on the lookout for female talent were Blind Faith, the short-lived supergroup comprising Eric Clapton, Steve Winwood, Ginger Baker and Rick Grech. Rather than settle for a boring group portrait on the sleeve of their self-titled 1969 album, Clapton asked a friend, the photographer Bob Seidemann, to produce a cover shot. Seidemann announced that they should find a nice female virgin, and they ended up with one of the most controversial pop images ever made: an 11-year-old girl with her top off, fondling a futuristic toy aircraft. Mariora Goschen, still with striking curly hair, recalls that she was coerced into posing for the picture. "My sister said, 'They'll give you a young horse. Do it!' "
Like the British constitution, the protocols of pop cover stardom are unwritten. Sometimes the musicians get on very well with their cover stars, and at other times the two worlds remain strictly detached. "At the end of the Roxy Music shoot, everyone was on a high," recalls Marilyn Cole, "and Bryan and Antony and the others all went off to the Sombrero, which was a famous gay club. Bryan asked me if I wanted to come along, but I was busy that night. So he gave me a lift home. I was living in Cadogan Place with four Bunny girls, and he seemed very intrigued about that." Like a few of the other Roxy girls – Kari-Ann Moller, Amanda Lear and Jerry Hall – Marilyn ended up dating Ferry. "But we were all so free and easy in those days. It was a fabulous time."
By contrast, Lucy Joplin says she had an upsetting encounter with the Welsh band she helped to promote. "I was invited to a special Stereophonics event at the BBC," she remembers, "and I went along with my boyfriend. We went in and there was this 30ft backdrop with the picture of me and the guy kissing. We went to the party afterwards, and everyone was wearing a pass round their neck with a picture of me on it. One of the band members came over and said, 'What do you do?' I said, 'I'm a singer-songwriter' – which I am – and he walked off and they blanked me all night." Her opinion of Performance and Cocktails is sharply divided: "I don't like the album but I do love the cover."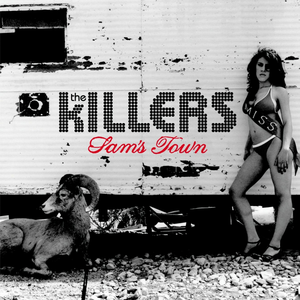 Felice LaZae, 22, had a much more cordial relationship with the band whose cover mascot she unexpectedly became in 2006 (above).  She was working as a production assistant at the Studio at the Palms in Las Vegas when the Killers came in to record their album Sam's Town. "They were very nice guys and everybody became friends with them. I had come home from work one day and their product manager gave me a call and said, 'Hey, they wanted to know if you wanted to be in the photoshoot.' I didn't expect that at all. I had never done any professional modelling. So I came to the shoot the next day, in the desert about 20 minutes out of Las Vegas. They wanted some pictures for the inside of the album. It wasn't the original plan to have me on the cover." The band wanted her to pose as a beauty queen, a Miss America type, in a white dress. "But on our way to the shoot, they said, 'Would you mind being in a bikini?'" she laughs. The sash she wears says just "Miss", and Felice says that the word's position on the cover is significant. "You can read the words as 'The Killers Miss Sam's Town'. Sam's Town is a very old hotel in Las Vegas, and it's supposed to represent Las Vegas – so they're missing Vegas."
She believes she has struck a blow against American cultural cliches: "The Killers' management said they wanted to have somebody who represents the real America, not just what you see on TV. I'm half Puerto Rican, and a lot of Killers fans have written to me to say how nice it is to see a Latino on the cover, instead of the usual girl with blonde hair and blue eyes."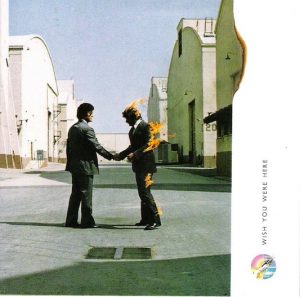 Some cover stars have to do a lot more than stand there looking pretty. The award-winning Hollywood movie stuntman Ronnie Rondell played the businessman getting literally "burned" in a deal on Pink Floyd's 1974 album Wish You Were Here (above), and was actually set alight for the photograph – though he wore a snug-fitting protective suit under his business suit, and a special wig to cover his hair. "We did the fire shot between sound stages in Hollywood," recalls Ronnie, now 70 and retired, telephoning from his lakeside house in Missouri, "and when they lit it the wind started swirling, and there were a couple of times we had to put it out, because the flames were blowing right in my face. So I was turning into the wind and away from the camera, and the poor stills guy was trying to get the shot and they only had the one suit: once they'd burned it up, that was it." Why didn't they abandon the shoot and try it again another day? "Well, I suppose they could've. Pink Floyd were huge and they had a ton of money, I'm sure." How much of that money did Ronnie see? "I think they paid me $250. But I have gotten more mileage out of that two hours' work than any of the big movie stunts I've done over the years."
Spencer Elden was chosen as the Nirvana baby because his parents were friends with the underwater photographer hired for the job
You stand a better-than-average chance of cover fame if you are simply related to the artists, or have good connections. Linda McCartney's photograph of her husband for his first solo album shows Paul with their baby Mary – now herself a successful photographer. The lady in red who appears with Bob Dylan on his 1965 album Bringing It All Back Home is Sally Grossman, the wife of Albert Grossman, Dylan's manager. The boy on the U2 covers is Peter Rowen, the younger brother of one of Bono's friends. And Spencer Elden was chosen as the Nirvana baby because his parents were friends with Kirk Weddle, the underwater photographer hired for the job.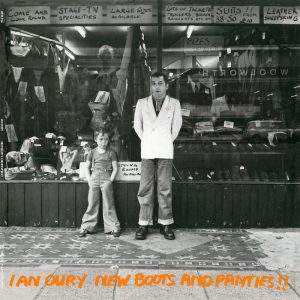 The cover of Ian Dury's breakthrough 1977 album, New Boots and Panties!!, shows the singer standing next to his five-year-old son, Baxter (above). The boy lived outside London with his mother, Elizabeth, who had split up with Ian, but Baxter's father would often look after him at the weekend. "I don't have many memories of being that age," says Baxter Dury when I meet him on his patch in Notting Hill, "but I do remember the day that picture was taken. It was one of those routine occasions when Dad, in his haphazard way, was responsible for me for the weekend. At that stage he was obsessed with his career, and anything you did with him would be related to that. So I was there when he came to do the album cover."
In the picture, father and son stand outside Axfords, a clothing shop near Victoria station that has since been demolished. "I remember that Dad had an obsession about that shop; he continually talked about it and wanted to use it," says Baxter, his cheerful London rasp an echo of his late father's. "But I wasn't meant to be in that picture; it was a complete accident. I remember standing on the other side of the street with the photographer's assistant and some equipment, and I was a bit shy and confused by all the people, so I just walked up to Dad. That's why I've got a slightly shy, 'What am I doing here?' look. And I think a few shots were taken and then I wandered off again." For his moment of glory, Baxter is sporting grey flannel flares "and, for some bizarre reason, football boots". How does Baxter feel today, 30 years on, about being on that cover? "Proud. Very proud. I'm not shy about it. If I see it, I immediately tell people, 'There's me!'" Baxter now also appears in a re-creation of that cover painted by Sir Peter Blake, who famously created the Beatles' Sgt Pepper cover.
Some cover stars are so unfamous, nobody knows who they are. Mystery surrounds the identity of the podgy American boy who has graced two Fatboy Slim records: the 1998 album You've Come a Long Way, Baby, and his greatest-hits collection in 2006. The photograph is from the 1970s and the boy has either disappeared or died of obesity in the meantime. This summer it was announced that, for some undisclosed reason, the Smashing Pumpkins were searching for the young female twins who posed for the American band's Siamese Dream album of 1993. Despite the title, they are not thought to be conjoined.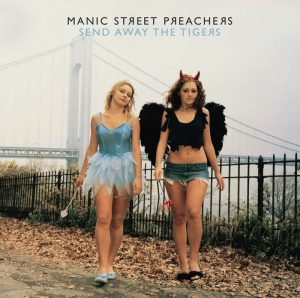 In the case of the 2007 album by the Manic Street Preachers, Send Away the Tigers (above), the cover's creator is actively ensuring that the identities of the participants remain a secret. The picture was chosen by the Welsh band from a book by the American photographer Valerie Phillips, and shows two girls dressed as a fairy and a devil-horned angel in Brooklyn, New York, with the Verrazano-Narrows Bridge leading to Staten Island in the background. The fairy is a Polish-American college student called Monika, and Phillips has created two books about her. "I met her when she was in high school," says Phillips, "and got involved in following her life around." The dark angel in the picture is Monika's cousin Kate. "It was taken on Hallowe'en, and they put these costumes together." Phillips will not allow journalists to interview the girls. "No, definitely not, sorry. I don't think that's right and I don't think she'd want to do it. I have to somewhat protect her privacy. She thought it was good fun doing the books, and she thinks it's great being on the record cover."
Like serial bridesmaids failing to become brides, cover stars rarely become household names themselves. One exception is Jerry Hall, who was just gaining attention as a 19-year-old model when she posed seductively on Roxy Music's 1975 album Siren. Coincidentally, she is now effectively related to the band's first glamourpuss, Kari-Ann Moller, since Moller is now married to Chris Jagger, the brother of Hall's estranged husband, Mick.
Other members of pop's cover club still stand a chance of full-blooded fame. The glamorous Lucy Joplin has played gigs as a guitar-strumming solo artist under the banner of "antifolk" and has now formed an electric trio, Lucy's Diary, to make some more noise. "I'm doing what I want to do for the first time in my life," she says. Baxter Dury now has a son himself, has recorded two solo albums and is a record producer.
The grand tradition of album-cover extras shows no sign of dying. And there are signs that the female models who decorate music packaging are about to become raunchier than ever. Here's a recent appeal made on the Craigslist classified-ad website by an American band:
"Up and coming NYC/Boston based rock band is looking for a slim, busty, 18-25 year old female model for an upcoming album cover photoshoot… The photos will be risque (think a more badass Sports Illustrated: Swimsuit Edition), so you must be comfortable showing off your body… Please submit 2-3 photos, including AT LEAST one head shot AND one full body shot (don't be afraid to show off). Also, be sure to include stats (don't forget cup size) and contact info." ♦
© 2014 Tony Barrell
Tony Barrell has been published by HarperCollins, Omnibus Press, ACC Art Books, Iconic Images and Godknowswhoelse.