Britain's favourite electro-diva, Alison Goldfrapp, is making an exhibition of herself. She tells Tony Barrell all about it
THE SUNDAY TIMES, 2013
Alison Goldfrapp has been making an exhibition of herself for years. Ever since she and Will Gregory formed the band Goldfrapp in 1999, Britain's favourite electro-diva has shown a flair for dramatic sights as well as sounds. She has said that music is "a visual experience" for her, and if she isn't prancing about in one of her many fetishistic costumes, she's romping in a forest for the video camera, surrounded by man-sized leaf creatures. So when the Lowry gallery in Salford asked her if she fancied curating her own art exhibition, she said "Ooh La La" and jumped at the chance. Goldfrapp are also releasing a short film soon, so this will officially be the band's artiest year ever.
According to the Lowry, the forthcoming exhibition explores Goldfrapp's interest in "the darker side of fairy tales and folklore", but it also embraces surrealism and horror. "It's a mishmash of things that have inspired me, and that have inspired some of the music, lyrics and visuals," she explains when I meet her for morning tea in London. Her chosen artists include the children's illustrator Jan Pienkowski, the surrealist painter Leonora Carrington, and the reclusive American outsider artist Henry Darger. "He used collage to create these strange little worlds, and these epic landscapes and stories with mixed-up mythological creatures," she says. "When I see his work, I'm drawn into his world, and I can imagine this man beavering away, creating all these crazy scenarios."
With her diminutive frame and delicate features, there is something of the Arthur Rackham woodland sprite about Alison Goldfrapp
The singer's passion for movies is represented in the show by a selection of film clips. "There's a bit of Lost Highway by David Lynch, and a clip from A Tale of Two Sisters, which is a spooky South Korean film. I remember seeing it in the cinema and screaming at one point." One still in the exhibition, by the photographer Anna Fox, features a familiar pair of legs. The cover for the band's 2001 single 'Human', it shows Alison up to her red high heels in bluebells. Goldfrapp loves the ambiguity of the image: it could be a murder scene or, as she puts it, "someone just having a lovely romp in the flowers". Like the singer, Fox spent much of her youth in the Hampshire town of Alton. "It was taken in a wood that both of us grew up in," says Goldfrapp, before spluttering with laughter and correcting herself. "Well, we didn't actually grow up in the wood!"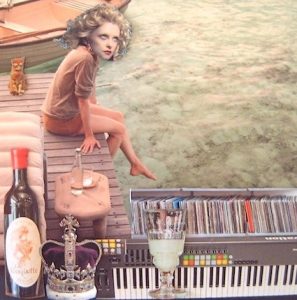 It's not a totally ridiculous idea: even at 47, with her diminutive frame and delicate features, there is something of the Arthur Rackham woodland sprite about her. Forests fascinate her, evoking potent memories of her childhood. The youngest of six children, she recalls that her father, Nick, a Buddhist who "was a painter and a man of nature", would organise strange family outings. "We used to get up before sunrise and go into the woods. We weren't allowed to talk: the idea was we'd just sit there, listening and watching. It was very Zen."
After the exhibition comes the film, which illuminates five of the songs on the new Goldfrapp album, Tales of Us. Though she has made some dazzling videos in the past, Goldfrapp declares that she is unhappy with most of them, and this "the first time we've made a film where the songs and the visuals complement each other". The half-hour movie is made by GoldGunn Productions, a collaboration between the singer and her partner, Lisa Gunning. A 41-year-old film editor who has worked with Sam Taylor-Wood and Anthony Minghella, Gunning first met Goldfrapp at a photography exhibition at Tate Britain six years ago, and the couple now live together in Bath.
Three naked actors run through the grounds of Tottenham House, while Alison swans around in palazzo pants indoors
The idea for the film came from Gunning, who was flying off to edit the film Seven Psychopaths when she listened to some rough recordings of the new Goldfrapp songs. "I was on this plane, 35,000 feet up, and I listened to the song 'Stranger', and suddenly came up with the idea of a film about a lesbian serial killer," she tells me. The band and the record label loved the idea, and the project grew from there. Gunning tells me she was pleased to have a "reasonable" five-figure budget for the film. "A few years ago, I made a whole video for Goldfrapp on my iPhone," she laughs. "It was for the song 'Yellow Halo', and it's had nearly 500,000 hits on YouTube."
The locations for the new film included Hollywood, Camber Sands and Nottinghamshire. For one segment, Gunning took a crew to Tottenham House, a stately home in Wiltshire, and used a remote-controlled drone to film three naked actors running through the grounds, while Goldfrapp swanned around in stylish palazzo pants indoors. "Alison is great to work with," she says. "She's into every little detail and she questions everything, and when she's stopped questioning things you know you're getting there. She's very honest. I spent a year of my life editing a movie once, and after the screening I asked her what she thought. She said, 'It's not very good, is it?'"
I love the smell of dung. It's got a nice, sweet tang to it
Sometimes, Goldfrapp seem to be more of a multimedia, multi-sensory art project than a pop band. I wouldn't be entirely surprised if I heard they had been nominated for the Turner prize. What new medium will they be exploring next, I ask Alison – how about perfume? "Yeah," she replies, "I could do a nice bottle, couldn't I, with an animal's head for a lid." Suddenly she is running with the idea, fantasising about the fragrances she might produce. "The smell of horse, mixed with tar, creosote, rotting wood, woodsmoke… and dung. I love the smell of dung. It's got a nice, sweet tang to it." And she laughs a multi-octave laugh like fairy music in a forest glade. ♦
Goldfrapp's stunning video for the song 'Drew' can be seen here.

Tony Barrell has written hundreds of articles about music. He is the author of several books too, including Rock'n'Roll London and The Beatles on the Roof.
© 2014 Tony Barrell