Where did tribute bands come from? Tony Barrell investigates the copycat music scene

THE SUNDAY TIMES, 1997
The woman in the 7-Eleven wants some chilled fizz for a very special occasion. "For f***'s sake," she says, "don't you understand the Beatles are next door? Will you get me some cold champagne, or what?" The shopkeeper must think he, or the whole world, has gone mad. How could the Beatles be next door? It is 1997, and the shops on either side have long since shut for the night.
Three doors away, the band and I are in a lift heading for the upper reaches of London's Virgin Megastore. We stop at the first floor, and Paul McCartney gets out, thinking we've arrived at the dressing rooms, then rushes back into the lift again before the doors close. The same thing happens at the second floor. It's zany enough to be a scene from A Hard Day's Night, except the band are wearing their colourful Sgt Pepper outfits.
When we finally arrive at the third floor, the wigs, sideburns and moustaches come off and the white plastic cups come out. Sar, oddly monikered fan of the band and 7-Eleven customer, arrives moments later with the hard-won booze. The shopkeeper has thrown in some roses and gypsophila too. Flower power.
Another day, another gig for the Paperback Beatles. Tonight this tribute band, a kind of soft-cover version of the first edition, played to an audience of evening record-buyers to mark the 30th anniversary of the release of Sgt Pepper's Lonely Hearts Club Band. In a few days they'll play the officers' mess at Wormwood Scrubs. "We're getting there, we're chipping away," says the Paperbacks' John Lennon. "There's a lot of competition, you know." There certainly is. Sharing the copycat circuit with the Paperbacks are the Bootleg Beatles, the Cavern Beatles, the Bandit, Ludwig, Silver and Moondog Beatles, the Other Beatles and the Fab Four, each with their own style of imitating the most missed band in the world.
What is happening to the entertainment business? What became of the days when stars were real, and fans would only settle for the genuine article?
People miss Abba too. It may have been a heinous sin against hipness to admit to getting off on 'Dancing Queen', 'Fernando' and 'Waterloo' in the 1970s, but there is no shortage of ticket uptake now for Björn Again, Fabba, Abbacadabra, Voulez Vous and all the other faux-Swedish bands treading the boards and wearing the flares. Radiating out from the Beatles and the Abbas is a growing galaxy of Blondies, Madnesses, Thin Lizzies, Queens and so on.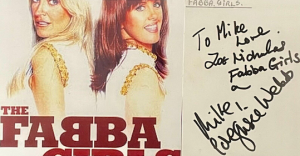 What is happening to the entertainment business? What became of the days when stars were real, and fans would only settle for the genuine article? Actually, it's a wonder that it didn't happen earlier. We are well into an age of mass production and fakery; of bootleg Rolex watches, pirate videos, cloned sheep and neo-Georgian houses with mock-Provençal kitchens. Why should we be alarmed at a few bogus, factory-made Freddie Mercurys?
The stars of the Beatlemania show launched themselves as the Bootleg Beatles when the production ended in 1980
Because they could be a threat to that great god of our times – fame. We could be inflating the currency, watering down the stardust, with cultural consequences we cannot fully foresee. Paradoxically, we could also be playing into the hands of the mega-famous. "The real Spice Girls are untouchable; you can't get close to them for love nor money," says "Geri" of Spice It Up, one of the many girl-power tribute troupes. "But people can come and touch us and talk to us, and get our autographs." With fake bands to do all the flesh-pressing and crowd-pleasing, real acts have an excuse to become more and more remote, just voices on CD, faces on MTV and tiny bodies on a stadium stage. Is that what we really, really want?
****************************************************
You can blame professional Elvis Presley impersonators, of whom there are over 5,000 in the US alone, 20 years after his death. You can point to karaoke, that embarrassing imported pastime of overstressed Japanese businessmen. And you can cite the Beatlemania show at London's Astoria, whose stars launched themselves as the Bootleg Beatles when the production ended in 1980.
Another cradle of the tribute band is Australia. Starved of big names, owing to their reluctance to put Oz on their tour itineraries, Australians were quite unembarrassed about creating home-grown versions. Then, like an airborne seed, one of these bands just happened to drift to Britain. "Björn Again imported the term 'tribute band' from Australia," says the British promoter Robert Reed. "They contacted me around October 1991, having tried a lot of other agents and promoters who basically said, 'Abba? What! Get out of here.'" Reed saw Björn Again play a gig in Gothenburg, Sweden – an audacious case of coals to Newcastle. "I was knocked out by it. Then I had six months of hard slog, trying to convince the British university circuit that this would really work." He stage-managed the band's arrival at Heathrow airport, asking them to turn up in white one-piece outfits like the ones worn by Abba on their 1976 album, Arrival, and arranging for them to be surrounded by Japanese tourists. Flashbulbs popped.
Soon, Björn Again were playing to audiences of 2,000, their cocktail of camp, irony and nostalgia going down a storm in gay venues especially. "On the first tour we probably grossed about £120,000," says Reed, "though we'd probably spent £110,000 breaking the act." After parting company with the Abba doubles, Reed oiled the hinges for the Australian Doors. "It was easier this time, because venues had accepted that tributes would work."
Not everyone wants to wait three years to see a famous band play. Even then, touts buy half the bloody tickets
The demand thus established, the supply of facsimile artists has been rising ever since. But why? Isn't watching a concert given by fake rock stars basically a naff idea? At an outdoor "tribute festival" in Bromley, Kent – a Sunday afternoon triple bill of Pink Fraud, Who's Who, and U2 copyists Zoo-2 – I get a speech from a member of the audience, a hirsute young musician called Anthony. "Don't slag off tribute bands," he implores. "Not everyone wants to wait three years to see a famous band play. Even then, touts buy half the bloody tickets, and not everyone can afford to pay £150 outside Wembley Arena. They go to see a tribute band instead."
This is a point made more poignantly by Jake, a 17-year-old who has come with his mother to watch her boyfriend, "The Edge" in Zoo-2. "If you hear of a Manic Street Preachers tribute band, will you let me know?" he asks me. "I can't afford to see the Manics; they've suddenly got quite expensive." It costs between £5 and £10 to see a good tribute band, compared with the £33.50 U2 were charging at Wembley recently. At Bromley we are getting three bands for a tenner. This is the flip side of the fame-dilution argument: democratisation, music to the people. Who'd have guessed it? Behind the glitz and tackiness of this business lurk distinctly hippyish ideals. Tributopia.
"Do you know what I like about this scene?" says Pete Heyward, singer and guitarist in Pink Fraud (and, incidentally, elder brother of the more famous Nick). "It's like punk: you can just get up and do it. And it's 'F*** you' to the record companies. It's all live stuff."
There is also a fair bit of money to be made. Given the ticket-price differentials, you might think that chart bands make the real money while tribute bands run along behind them catching the odd stray fiver. "But bands in the charts have thousands of pounds invested in them by the record company," says Robert Reed, "which will usually want to get that money back before the band see another penny." So gig money tends to be very tightly managed, with fledgling songwriters often living on fixed allowances. Tribute bands, on the other hand, can pocket most of the £1,000, £1,500 or more that they earn per night. They don't even have to pay royalties: the venue does that, sending 3.5% of the box-office take to the Performing Right Society.
Some pop impersonators are hobbyists with ordinary day jobs, but most are working musicians who have turned to soundalike work to make money. "This is just one of the things that pay the bills," says Iain Mackenzie, singer in double-homage outfit Wham Duran. "We all do other things. I play piano in Pizza Express restaurants."
It pays to look like the original artists, but the more you sound like them, the more audiences will indulge you. Mackenzie, who has two characters to impersonate, gets away with looking nothing like either George Michael or Simon Le Bon by sending the whole thing up, gurning and disco-dancing through slickly played versions of 'Freedom' and 'Rio'. "You've got to take the piss," he says, "when you look nothing like them."
If they want to have real fun in this game, musicians should of course emulate their heroes, rather than artists they can't stand. They thus become an interesting hybrid, a cross between stars and fans – "stans", if you like. But sometimes greatness is thrust upon them. "For years I've been told 'You sound just like Chrissie Hynde," says Tarnsy B Hynde of the Pretend Pretenders. "So I thought, well, okay, why not become her? And I know I don't look like her and I'm a bit short and a bit chubby, but it doesn't matter: I'm a good musician and I like playing and singing."
The lengths to which performers go are impressive. "Peter Gabriel" of ReGenesis throws on the surreal flower, fox and Britannia outfits that were a Genesis trademark in the early 1970s. "George Harrison" of the Paperback Beatles even plays a sitar on stage. But not everything in the dressing-up box always fits. "Roger Daltrey" of the Maximum Who used to swing his microphone round on its lead, just like the Who's real lead singer. Then, during a gig in Barry Island, Wales, he got a mike straight in the face. "There was blood pouring down from my forehead. The audience thought it was part of the show. They thought it was great."
Back in Bromley, Zoo-2 still haven't found the sound that they're looking for. The audience sit in a kind of gravelled concrete amphitheatre set in a rolling green park behind the Churchill Theatre. Between them and the temporary stage is a lake, and "Bono's" vocals are apparently being soaked up by the lily pads. Only a trickle of people have come to watch – everyone is blaming an underwhelming publicity campaign – and the council has helped things along by locking the toilets. People are walking around looking agitated after drinking several pints of Foster's out of plastic glasses. Stewards are furtively advising people to pay tribute to the facilities in the nearby Burger King. Later, Burger King gets wind of what's happening and shuts its toilets as well. "I used a hedge," admits one female spectator.
****************************************************
Oasisn't are playing the Chicago Rock Café in Milton Keynes – a tribute to the Windy City in a town famous for counterfeit cows. The audience crowded around the stage, illuminated by a galaxy of neon beer signs, are roaring and applauding. Inscrutable behind his shades, "Liam" eggs them on. "Have you only just learnt how to f***ing clap together?" he drawls. As the band storm through the Oasis favourites – 'Wonderwall', 'Don't Look Back in Anger', "Some Might Say', 'D'You Know What I Mean?' – "Liam" virtually eats the microphone and shakes his star-shaped tambourine with surly abandon. After a rousing 'Cum on Feel the Noize' – Oasisn't doing Oasis doing Slade – the drummer has a bit of a bash-about. "'Ey!" the singer yells at him. "We're not a f***ing Adam and the Ants tribute band, know what I mean?"
This is pantomime, updated for the rock age. Instead of all the Aladdins and Cinderellas and Buttonses, there are Liams and Noels and Agnethas and Fridas
There and then, it occurs to me what I am watching. This is pantomime, updated for the rock age. There's all the dressing-up, all the formula banter and larking-about. Instead of all the Aladdins and Cinderellas and Buttonses, there are Liams and Noels and Agnethas and Fridas. And instead of all the rude jokes for the dads, there are the punning names: Fake That, Fleetwood Bac, Malice Cooper, Clouded House, the Cheeky Monkees, Phil Haley & His Comments.
Maybe we should call them panto bands, then. "Tribute" has always been a disingenuous label, suggesting the musicians were playing at a wake. "Neil Tennant" of Virtually, a homage to the Pet Shop Boys, is very uneasy about the T-word. "We insist that we aren't publicised as a tribute act, but as an acknowledgment," he explains, removing his sunglasses and stetson and teasing out his hair grips. "It's a very intellectual word. It's the kind of word the Pet Shop Boys themselves would use. We work at a cerebral level. We're perhaps the only tribute band, or rather acknowledgment act, that do." We are backstage at an all-day tribute-band extravaganza that has attracted an estimated 7,000 people to Boston Manor Park in west London. Spice It Up are on stage, belting out 'Who Do You Think You Are?' to a prerecorded backing track.
Virtually have had their big television break. Unfortunately, it was on the L!VE TV cable channel, home of the News Bunny and Topless Darts. "Neil" and "Chris Lowe" were on The Sham Rock Quiz, competing against a Simply Red acknowledgment called Wonderland. "Neil" was compelled to sing 'Ace of Spades', the Motörhead song, in the style of the Pet Shop Boys.
Other bands tell of their experiences of this show, which makes Catchphrase look like University Challenge. "We thought it was going to be really great, like Mike Read's Pop Quiz or something like that," says "Noel" of Oasisn't. "But it was nothing like it. We realised how cheap it was when we had to give our name tags back at the end, so they could reuse them."
"We shared a dressing room with the bouncing dwarfs who do the weather," says Charlie Chambers, drummer in the Pretend Pretenders. "And the brief for the show said, you've got to be fun and wacky. So I dropped my trousers on air. But it was cut."
The DJ Simon Bates hired the Counterfeit Stones to fool the BBC bosses when he left Radio 1
The other TV show that haunts the tribute world is Granada's Stars in their Eyes, in which burglar-alarm salesmen from Basildon and supermarket cashiers from Wigan get up on stage and impersonate famous singers, encouraged by twinkle-eyed presenter Matthew Kelly. Many former contestants have signed up to lookalike and soundalike agencies, or gone on to join tribute bands. David Hughes, a singer who has just formed Northern Scum, a homage to the Beautiful South and the Housemartins, remembers appearing on the show about five years ago. "I did Rick Astley at the time," he says. "Obviously, there's not much of a market now for a Rick Astley tribute band."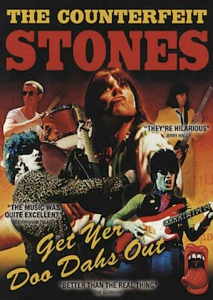 Back at Boston Manor, the Counterfeit Stones have started up. This is the band that the DJ Simon Bates hired to fool BBC bosses when he left Radio 1. This is the only band with a Brian Jones character on guitar – going by the name of Byron Wood-Taylor-Jones, which not only gently mocks the upper-middle-classness of the late original, but also includes nods to his successive replacements, Mick Taylor and Ronnie Wood. And this is one of the best tributes on the circuit, fusing an authentic Stones sound with an understated visual comedy: tasteless hippie clothes, and improbably large spliffs parked at the ends of their guitars.
This isn't the Rolling Clones, who recently received a stern letter from a firm representing the real Stones, telling them to stop using the similar-sounding name and the band's tongue-and-lips logo. This seems a little unlucky when you consider the positively chummy relationship that some other tribute bands have with their prototypes. Noel Gallagher has pronounced No Way Sis the second-best band in the world, and even gave them a Les Paul guitar. Björn Ulvaeus of Abba saw Björn Again on Swedish television and sent them a telegram that is a lesson in Nordic humour. "The best of luck," it said. "It was always my belief that someone who looks like me should have a successful career."
Backstage at Boston Manor, Spice It Up are signing autographs, and headliners No Way Sis – the Scottish tribute to Oasis – are posing for photographs behind some lager kegs. Does "Posh Spice" have a tribute David Beckham? "Yes, he's over there," she says, pointing to a corner of the guests' enclosure. "And he does play football, actually. But not professionally."
No Way Sis's publicist tells me how Melody Maker gave the band champagne and took them to Tower Records in the West End of London on the day the latest Oasis album came out. "They got completely pissed," she says. "We had to go and do two radio interviews, and they couldn't even speak."
How much do No Way Sis drink before they go on stage? "Gallons, gallons," says "Bonehead", the rhythm guitarist, in his powerful Glaswegian accent. Do they drink the same things as Oasis? He looks at me with a mixture of disbelief and pity. "Hey, c'mon," he says, "we're no' sad!"
Now the girls from Abba Gold have arrived backstage. The Sun newspaper that day said they "look more like a Coronation Street tribute act – Bet Gilroy and Betty Turpin". Perhaps this subtle allusion to their ages is the reason that one of the TV reporters here is asking them how much longer they will be impersonating the Swedish songthrushes. "I don't think we're going to be doing 'Waterloo' in our Zimmer frames," says "Agnetha", the blonde one. "I was rather hoping that we can hand it down to our children, and they can do Abba as well, you know?" She half-laughs, which means she might be half-serious. She has quite innocently evoked a horrifying scenario: a kind of tribute-band aristocracy, in which pop characters are handed down through the generations. You can imagine somebody in the middle of the 21st century saying: "I play Mick Jagger, my father played Mick Jagger before me, and his father played Mick Jagger before him."
But perhaps the bubble will burst before then. Maybe people will simply stop going to see fake bands, out of boredom or facsimile overload or something. Pete Heyward of Pink Fraud doesn't think so: he believes it has become a permanent genre in its own right. "This isn't going away," he says. "I think now there's always going to be rock, soul, pop, reggae and tribute."
One day there might even be awards for all this mock rock: Tribs, perhaps, instead of Brits
Having witnessed the behaviour of audiences at tribute concerts, I can only agree. It starts with beatific smiles of recognition (Oh my God, they're playing 'She Loves You'/'Bohemian Rhapsody'/'My Generation' and they sound just like them!) and runs to pogoing, crowd-surfing and the wielding of gigantic inflatable hammers. At three different concerts I see grown men grab each other by the shoulders and sing into each other's faces – a bizarre affirmation of their shared past and culture.
And as the years go by, there will be more nostalgia to mine, more artists to impersonate, and more people accustomed to watching fakes. One day there might even be awards for all this mock rock – Tribs, perhaps, instead of Brits. Only a sudden attack of good taste can stop this whole business now. How likely is that?  ♦
© 2014 Tony Barrell
Tony Barrell is available for interviews and personal appearances.