A beautiful new book reveals the Beatles photo archives of Terry O'Neill, Norman Parkinson, Michael Ward and Derek Bayes. It was a dream project to work on, says the author Tony Barrell
DECEMBER 2020
I was excited to be asked to write the text for Beatlemania: Four Photographers on the Fab Four, a stunning book that compiles nearly 200 important images from the Beatles' early career. Having written about them many times, I knew that despite the billions of words lavished on them over the best part of six decades, there are still – astonishingly – new things to discover.
For instance, while researching Michael Ward's historic assignment to photograph them in Liverpool, I unexpectedly found the incident that evidently triggered the Jelly Baby phenomenon. The Beatles' early UK concerts saw fans hurling dozens of these child-shaped chunks of confectionery from the audience, and it all began with a casual quip from John Lennon on February 19, 1963, the day Ward took them on a tour of their home city. "Someone sent me a load of Jelly Babies today. But he ate them all," said John, pointing at George Harrison. After the quotation was printed a few months later in Honey, a British magazine for hip young women, fusillades of sweets were the result. It was also a revelation to see Ward's photograph of the foursome walking over a zebra crossing, foreshadowing the iconic Abbey Road cover shot six-and-a-half years later.
Derek Bayes' shots of the band romping through Mayfair in 1965 have never been published before
It was a treat to study Terry O'Neill's extensive Fab Four archive, which begins with them recording 'She Loves You' (their first million-selling single), shows them meeting the future prime minister Harold Wilson (see picture below), and portrays them as they temporarily become mainstream entertainers, having a crack at Shakespeare and "flying" above the London Palladium stage à la Peter Pan. It's obvious that the band warmed to Terry – they had an immediate respect for people with skill, charm and humour – and the consummate celebrity photographer would continue to work with Paul McCartney and Ringo Starr after the breakup.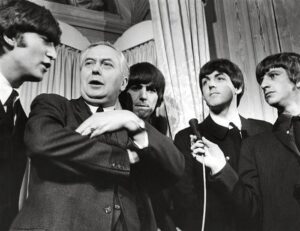 One can only marvel at the access the Beatles gave to the brilliant Norman Parkinson, who photographed them extensively as they recorded at EMI Studios in Abbey Road. They're working on their second album, a difficult moment in most bands' careers, but it's a measure of their burgeoning confidence that they allow "Parks" to take so many action shots of the creative process.
It's always a joy and a privilege to see photographs that have never been published before, such as Derek Bayes' set of the band romping through London as they make the film Help! in 1965 (see picture above). Thank heavens for a quick-thinking professional with a great camera. It's a springtime Sunday in Mayfair and the band look happy and relaxed (a heap of weed was smoked during the making of that movie, and they were topping the charts with 'Ticket to Ride' at the time). We're reminded, as if we need to be, just how naturally stylish and charismatic the Beatles were. Not only did they sound amazing and have an immense and evolving talent for songwriting, but they had the visual element sewn up too without really trying. That's why, half a century after they called it a day as a band, millions of fans across the world will be overjoyed to see this book. ♦
© 2020 Tony Barrell
"As rich in detail and insight as it is in imagery and iconography, Beatlemania is simply a must-have for any dedicated maniac"  – Far Out magazine
Beatlemania: Four Photographers on the Fab Four is published by the renowned ACC Art Books. It is officially sold out, but copies may be available HERE, HERE, and from other good bookshops.