Dido tells Tony Barrell about her strange childhood, her secret inventions, and how she accidentally broke America first
THE SUNDAY TIMES, 2002
For all of us who are mystified by her success, at a loss to explain her mega-platinum status, nonplussed by the way her music has wallpapered our lives, Dido Armstrong offers a clue. When she was at the MTV Europe Awards in Frankfurt in 2001 – picking up a prize for Best New Act – that naughty singer Shaggy came running up to her and confided what her album No Angel had meant to him. "He said he'd been shagging to it for the last year," she laughs. "He'd been making babies to the record. I was like, 'Right, a little more information than I need here.'"
If Dido is making music for couples – as opposed to, say, Westlife, whose fan base is too high on oestrogen, or Radiohead, whose angsty ramblings hardly suit romantic candlelit dinners – that could be why she's sold about 12 million albums and counting, making her the bestselling female artist of 2001. That could be why she consistently filled venues of 15,000 and upwards during her recent American tour. Shaggy is probably not the only person using songs like 'Here with Me', 'Thank You' and 'No Angel' as a sensual soundtrack.
No Angel is one of those albums that speak to vast armies of ordinary people. You either own a copy yourself or you know someone who does
Confirmation arrives in the form of listeners' emails as Dido sits in the London studios of Radio 1, fielding questions from the morning DJ Jo Whiley. The girls want to know where Dido gets her cosmetics, because "she has a great complexion". The boys want to know if she's "attached", because she's "really fit". And a woman called Lynsey asks if she's free on June 7, as Lynsey and her "husband 2B" have chosen 'Here with Me' for their first dance at their wedding, and it would be wonderful if she could sing it live for them.
No Angel is one of those ubiquitous albums that speak to vast armies of ordinary people. You either own a copy yourself or you know someone who does; if neither applies, you may well be an Uzbekistani yak farmer with no mates. Just as Sade's Diamond Life always seemed to be playing in the wine bars and cocktail clubs of the 1980s, Dido's silver-sleeved CD haunts the shopping malls and dinner parties of the Noughties. The comparison can even be extended to her airy voice, used with scarcely any vibrato, and the bossanova-ish 'Smooth Operator' rhythm of the title track.
Of course, music has come a long way since the 1980s, and the Dido sound is a recrystallisation of pop using elements of trip-hop, ambient and folk. But the lyrics address the unchanging mundanities of life: if 'Hunter' is an update of Engelbert Humperdinck's 'Release Me', then 'Thank You' retreads the territory of Sheena Easton's '9 to 5', extolling love as compensation for a tedious office job. The unisex appeal of the songs is undoubtedly helped by the fact that many of the lyrics were co-written with her brother, Rollo, and inspired by her fiancé, the entertainment lawyer Bob Page.
How does it feel to have become a kind of mainstream soundtrack? "I love it," says Dido. "It's amazing how the album pops up everywhere. I was watching Cold Feet recently – it's, like, my favourite TV programme. I was completely enthralled, and at one point one of the characters gave another an album as a present, and I'm sort of looking at it and I'm like, 'That's mine!' But I love it when that sort of thing happens, because you're just part of life then – as opposed to struggling to get yourself heard."
Sitting in the fading light of a conservatory at a London hotel, Dido looks pale but healthy in minimal make-up, a stripy sweater and fray-bottomed jeans. She turned 30 on Christmas Day, but in the flesh she is more kid-sisterish and approachable than the confident pop princess who smiles out from her photographs. Her London vowels remain intact in the face of transatlantic stardom, and her conversatyion is peppered with "y'knows" and "d'ya know what I means", belying her posh education at the City of London School for Girls and Westminster School.
I always wanted success, but fame absolutely corrupts: it messes with your mind
Her famous thatch of streaky hair is apparently having a day off, mussed and clipped into place. This is the "Dido flip" – a "short choppy shag" in the jargon of her New York hairstylist, Steven Ward – which became so popular that even Chelsea Clinton wanted one. "I love it when you turn up at gigs and the first few rows all have your haircut," says Dido. "I do keep changing it, and it's a bit mean, really, because you walk on stage and you see disappointed faces."
Like her music, she can sometimes blend into the background – but it disturbs or at least amuses her when she doesn't. "I was driving down the Euston Road last week, stuck in a traffic jam, and there was this car full of builders next to me. I had the window open, and I heard, 'It is her.' 'No it's not.' 'I know it's her, 'cause it's her hair.' I was desperately trying not to laugh, so they didn't know I could hear them. I can't believe they recognised me from my hair. I'm beginning to work out what makes me recognised and what doesn't. A baseball cap and some really dodgy clothes is usually the way to go."
George Harrison used to say that he asked for success, but never for fame. "That's really cool. I definitely think that success and fame are two completely different things. Success is all the good stuff. Fame, to me, is the nasty by-product of success. I always wanted success; it was definitely on my agenda. But fame absolutely corrupts, it messes with your mind, and I'm glad that I'm a bit older when this is all happening, 'cause I think if I was 18 or 19, I just dread to think what type of person I'd be by now. There's this hour you have before you go on stage where you can get anything you want: there are so many people that are making money out of it all, they'll get you anything, and you can totally exploit that. And I choose not to."
Dido shuns the classic rock'n'roll lifestyle of debauchery and self-abuse. She flirted with that in her youth – clubbing through the night, experimenting with Ecstasy, smoking herself sick and, once, drinking a whole bottle of Jack Daniel's ("I can't even look at the label now") – but now she's  a paragon of sensible behaviour rivalling Julie Andrews. "I don't go out when I'm on tour, because I just can't risk getting sick. I eat really well and I exercise, and I don't smoke or drink. And I don't eat any dairy, which is the huge thing that singers avoid." But there are occasional lapses: "When I come back off tour, the first thing I do is head for the fridge. I hadn't had cheese for about two years, and a couple of weeks ago I found some."
There is a showbiz legend that before she deigns to book herself into a hotel, she insists on having the swimming pool measured. "It's true, because it's pointless swimming if the pool's too small. That started at this hotel in Sweden, when I got into my swimming gear, went all the way down to the pool, and it was basically a Jacuzzi full of Russians smoking cigars."
I was going to play for Arsenal, and that was final. I was going to be the first girl in the team
Did she always want to be famous? "Mmm, yes, but not as a pop star. I was going to play for Arsenal, and that was final. I was going to be the first girl in the team. I was disappointed when I realised that wasn't going to happen." She also failed to become a great inventor. "I was endlessly trying to invent things and make my fortune. When I was about 10, I sent my 'one-and-a-half burger' idea to McDonald's: it was a burger box with a half-box attached to it, because I always thought you wanted a bit more. I never got a reply. And I invented a fax-machine part, a little concertina thing to stop the pages from sticking when they went through. I still constantly come up with inventions, but they're all ridiculous."
As if being named after a mythological queen of Carthage weren't enough of an albatross, she was christened something else: Florian Cloud de Bounevialle Armstrong, a name partly inspired by her parents' travels in France. She still hates it. "It's ridiculous, it's a forever nightmare." Her father, William, was a book publisher, and her mother, Clare, wrote poetry at home in Islington, north London. Little Dido enjoyed meeting her dad's authors: "My favourite was General Hackett. He wrote The Third World War and was in charge of all these Nato forces, but if we went to see him he'd be far more preoccupied showing me his sheep."
At the age of five she liberated a recorder from lost property at school, and started practising. She showed so much promise, her teachers suggested she have serious music lessons. So, on Saturday mornings from the age of 6 to 16, Dido went to the Guildhall School of Music – which she thanks, along with Arsenal, in her album sleeve notes – and studied piano, violin and classical notation. "It was really intense and it was brilliant. They'd play symphonies and we'd have to score them by ear. But composition was my favourite class." Didn't she feel hothoused? "What does that mean?" Clearly not.
Dido and her brother weren't allowed to have a television at home. When they smuggled a portable TV into the house, it was thrown out of the window
It sounds like a privileged middle-class childhood until you start reading between the lines. She and Rollo were not allowed a television – when they smuggled a portable TV into the house, it was thrown out of the window – and their home was off limits to friends. "I think Mum just thought the house was private. I was on the phone incessantly to my mates, and went round their houses all the time. And whenever my parents went out, we'd sneak friends in; it made it more fun when they did come round."
The rest of the time, she practised music or found other solitary pastimes. "I used to play board games on my own, like Monopoly. I'd sort of favour one piece, like the boot. I used to play Scrabble on my own, as well: I'd just run round and look at the letters on the other side. We had complete freedom to do our own thing. It's made me actually slightly terrifyingly self-sufficient, to the point where I can be a little cold, I think." To this day, she enjoys the monastic intensity of a good computer game. During a break in the Sunday Times photo shoot for this article, she enthuses about Time Crisis, a piece of PlayStation software: "You just shoot people: it's really therapeutic, and you use a proper gun…" Realising what she has said, she squeezes her eyes shut and guffaws. "Well, obviously not a real gun."
Her sense of humour is well developed, and she has a talent for smart ripostes. When, just for fun, I ask whether any of her friends call her Dildo, she fires back: "No, because they wouldn't be my friends if they did, would they?"
She says it must have been their "constant need to provide entertainment for ourselves" that led both her and her brother to become entertainers. "I have fond memories of when Rollo started deejaying. I was probably 9 or 10 and he was 15, and I would sit under his decks while he played me records by the Clash and Linton Kwesi Johnson, and I'd be earnestly learning the words. I'd go to school and friends would say, 'You're into some weird music.'"
Aged nine, she was packed off to Yugoslavia as part of a group playing songs like 'Tea for Two' and 'Begin the Beguine' on recorders. "I was pretty homesick the whole time. But it was my first tour!" Her tootling days came back to haunt her towards the end of 2001, on a zany chat show during a tour of Australia. "I hadn't played it properly for, like, 15 years and they just handed me this recorder – 'Play it!' – and I was like, 'Oh shit.' It was live, there was nothing I could do, so I had to play it."
She didn't sing in public until she was in the sixth form, when her school put on a production of the Purcell opera Dido and Aeneas, and literal-minded friends pressed her to audition. "At the audition they said to me, 'You're not necessarily an opera singer, but have you thought of trying to sing everything you've just sung an octave lower?' It was shortly after that I started singing in a jazz band."
I dropped about 16 glasses over Stephen Fry, when I was carrying too many. He was remarkably pleasant about it
The airiness of her voice, and the little yodels and Celtic yelps that punctuate her songs, are characteristic sounds of her first instrument as well. Might her singing be an unconscious extension of her recorder-playing? "My voice sounds like a recorder?!" she splutters. "Well, there's a break in my voice, where it just changes halfway, and you have to know when to use it and when not to use it. I am Irish, so that probably doesn't help." Her Celtic claim is indeed a strong one: her father's parents were Irish, and her mother's parents half-Irish. "And I loved the Cranberries, but I think she [Dolores O'Riordan, their lead singer] took it too far with that whole yelping thing. So I'd never go that way."
As a teenager Dido clashed with her mother, and these days she's cagey about the disagreement, long since patched up, that caused her to leave home at 15. "That wasn't my choice. I went to live with a friend and her parents." After school, despite passing five A-levels, she started waitressing. "I was very clumsy, but my heart was in it." Working at Café Flo in Islington, she brought the main light fittings down by accident with a magnetic window pole. "They had to close the restaurant for two days. And then I dropped about 16 glasses over Stephen Fry, when I was carrying too many. He was remarkably pleasant about it – I wouldn't have been."
She went to secretarial college on the advice of Shirley Conran, one of her father's authors. "She told me it was the most useful thing I'd ever learn." After temping for a while – "80 words per minute, but my shorthand was crap; I couldn't read it" – she ended up working at a literary agency, selling serial rights, and studying law at night.
Rollo, by this time, had become a writer and producer of dance music with his own record label. In the mid-1990s, as he worked on a new band project, Dido started hanging around the studio like a musical Cinderella, helping out and hoping for a chance to sing. The band became Faithless, and she sang on their hit debut album, Reverence, gave up her day job and joined them on a world tour. But she already had a batch of her own songs ready, and after winning her own publishing deal she decided to leave the band. The Dido fairy story gets complicated here, but shenanigans surrounding the sale of Rollo's label to a bigger company meant her album could only be released in the United States. her own stubbornness and ambition appear to have been a factor. "Basically, the record label I was on was being sold, the deal took a year and a half to do, and I said, 'You can't put my album out until the deal's done, because I want to come out on a proper record label.' So it was a standoff."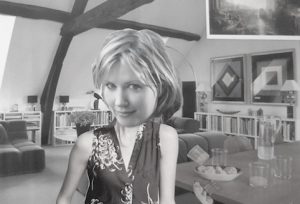 She threw herself into touring and promoting the record in the US. "And my God, I was homesick. I'd call my brother and I'd be like, 'I'm never going to have my album out in my own country.' But it worked brilliantly in the long run." No Angel started recording healthy sales, but a fortuitous burst of cross-media promotion suddenly took it into the big league. The song 'Thank You' was used over the closing credits to the movie Sliding Doors. Another number, 'Here with Me', was chosen as the theme for the TV show Roswell High – its unremarkable love lyric proving neutral enough to work over clips of 1947 "flying saucer" headlines and alien weirdness. Soon afterwards, the white-trash rap superstar Eminem sampled 'Thank You' for his song 'Stan', and Dido appeared as a pregnant accessory in his video. In late 2000, Dido's album finally came out in Britain and rolled out across the world, finding a hungry audience.
The crack-America-first approach now looks deliberate, a game plan. "I know. Somebody told me about a meeting she was in where somebody said, 'We need to do a Dido on this,' and she was like, 'You can't! It was one big accident.'"
The last thing she wants is a reputation as the new Kate Bush or Bryan Ferry, spending years noodling in the studio
Now that Dido has struck platinum, she and Rollo have become a hit factory for other artists. Recently the Britney Spears empire got in touch when they were having difficulty with the lyric of a song on her latest album – 'I'm Not a Girl, Not Yet a Woman'. "They just needed someone to help with what are very girl-orientated lyrics. It turned out she was a really big fan, and that's why they'd asked. She gave me a really sweet credit on the album, and phoned me afterwards. I was really touched."
But now, Dido has to call a temporary halt to her extracurricular songwriting and concentrate on her second album. The last thing she wants is a reputation as the new Kate Bush or Bryan Ferry, spending years noodling in the studio. "In America the record came out in June '99, so for the poor sods who bought it in the first week, it's been two-and-a-half years already, and it'll be another year before it's out."
The former temp, who once planned to make her first million by the age of 30, still seems businesslike to the core: she believes in old-fashioned hard work, checks her sales figures every week, and is under no illusions about the industry she is in. Somebody, she can't remember who, warned her way back about "the five stages of Dido" from the point of view of a record-company executive:
1) "Who's Dido?" 2) "Get me Dido." 3) "Get me someone like Dido." 4) "Get me a younger Dido." 5) "Who's Dido?"
"I'm probably on stage three," she says, "because apparently all the record companies are signing new Didos and David Grays. So if I leave it too long with the second album, I'm going to be on stage five."♦
© 2015 Tony Barrell
Tony Barrell's acclaimed new book, Beatlemania, is available across the world.