Why do famous singers keep stripping off in the studio? Tony Barrell exposes the peculiar history of naked recording
THE SUNDAY TIMES, 2012
Many of us have been listening extra-intently to Lady Gaga's ARTPOP album, thanks to reports that the singer recorded some of it stark naked – without even a raw-beef dress or a venison negligée to cover her modesty. Apparently, she thought her voice was somehow improved by her state of undress. But if the outrageous warbler thought she was breaking new ground here, she was wrong. The "starkers in the studio" routine has already been used by a veritable parade of pop stars.
The 1988 smash hit 'Eternal Flame', by the Bangles, was the American all-girl band's greatest achievement by far, and the studio behaviour of their comely lead singer, Susanna Hoffs, may have been a factor. Before she laid down the vocal, her producer, Davitt Sigerson, told her that he had obtained the best performances from Olivia Newton-John when the Australian chanteuse had stripped off. "I thought, 'Wow, that sounds really cool; I want to try that,'" Hoffs recalled later. It was a naughty fib – Newton-John had kept her clothes on – but Hoffs bought the story and sang in her birthday suit.
Robbie Williams experimented with undressing during the sessions for his 2002 album, Escapology. After spontaneously removing his underwear "for a laugh" and amusing his fellow musicians, he decided he found the experience liberating. "And then everyone was  a bit uneasy, because I refused to put my clothes on," he told an interviewer afterwards. Ian Gillan, best known as the voice of Deep Purple, also has a reputation as a professional garment avoider. "Yes, it is true," he tells me. "I only cover up when I'm cold, or in the presence of anyone who might be bothered by nudity – hence the warning sign on my undressing room door, and the fig tree in my garden."
If you want to be creative, you want to challenge the status quo, and one of the quickest ways is taking your clothes off
But few bands have created a whole tradition of nude recording like the all-male Canadian rockers Barenaked Ladies. Evidently inspired by their own band name, they recorded a naked track for each of their first six albums, between 1992 and 2003. And the British record producer known as Youth, formerly the bass player in Killing Joke, tells me he has used nudity as a "catalyst for creativity" at various points during his career. "If you want to be creative, you really want to be challenging the status quo somehow," he says, "and one of the quickest ways of doing that is taking your clothes off. It's a brave and noble artistic statement, and it has a consciousness-changing effect." He tried it in New Zealand in 1993, while producing the album Together Alone for the antipodean band Crowded House. "I told them I'd done other sessions where we'd all got naked, and I was teasing them, saying I was sure they were too upright and Catholic to do that. It worked: suddenly they all turned up naked."
If you want to give an emotionally vulnerable performance in the studio, being naked might give that extra level of exposure
But would being in the altogether really improve Lady Gaga's voice? I decided to consult Britain's best-loved vocal coach, Gareth Malone OBE, whose new BBC2 show, The Choir: Sing While You Work, was about to be broadcast. "Well, you don't want your clothing to be too tight when you're singing, because it would prevent you from breathing properly," he says. "And with some of the outfits that Lady Gaga wears, I can imagine her thinking, 'I'm not wearing that – take it off.' And if somebody wants to give an emotionally vulnerable performance in the studio, I can imagine that being naked might give that extra… level of exposure, for want of a better word. But I don't think, from a technical point of view, it would improve the voice.
"There's a whole lot of hokum and superstition that builds up around singing. Lots of people ask me, 'Will it help if I have some honey?' or 'Will it help if I bathe in asses' milk?' Not really. You should drink water and try to avoid too much dairy, but anything else is about psychologically bolstering the singer. The things that really count are that you know the words, you know the tune, you've practised it and your technique is solid."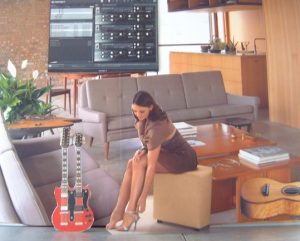 Taking your clothes off could actually be a disadvantage, adds Malone: "It can be very inhibiting, and when you're in a group situation, the last thing you want to do is feel inhibited." Studio nudity holds special physical hazards as well, as Youth discovered in the Crowded House sessions. After the band launched into a naked song, the singer and guitarist Neil Finn attempted a Pete Townshend-style power chord, and ended up screaming in agony. "He was playing a Fender Telecaster, which had these tightly coiled springs on the back to keep the guitar taut," recalls Youth, "and they'd got caught up in his pubic hair!" ♦
© 2014 Tony Barrell
Tony Barrell likes to keep his clothes on most of the time.