Dusty Springfield wasn't just a wonderful singer. She was a notorious food-flinger as well, reveals Tony Barrell
MAY 2021
Dusty Springfield was one of the finest singers who ever lived. And when someone is that brilliant at what they do, one is inclined to forgive them the occasional foible or bad habit. David Bowie smoked like a chimney and Keith Moon wrecked hotels. Dusty's strange habit, witnessed by many of her peers but unknown to the general public, was throwing food.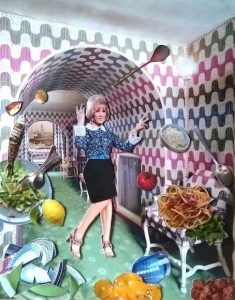 In the 1960s she would host parties at her home in London, attended by friends and fellow musicians, and at a certain point in the proceedings – usually late in the evening – she would suddenly appear from the kitchen laden with leftover savouries and desserts. And she would start tossing it at people, just for kicks. Remember, this was the Sixties, so there was more trifle and crêpe suzette flying around the room than there would be now. Crockery might also be lobbed, much of it smashing against the walls or on the floor.
Why did she do it? Well, it seemed to give her a thrill and make her laugh. But it was also something of a family tradition: back at her childhood home in suburban England, where she grew up as Mary O'Brien, disagreements would often culminate in food fights. If you said something out of turn, you could end up covered with mashed potato and gravy, or apple pie and custard. (I suppose there are worse kinds of domestic abuse.) And when she grew up, flew the nest and found fame, she took the habit with her.
Martha and the Vandellas hid behind chairs because they thought they'd get coleslaw in their wigs
Dusty didn't discuss her plate-chucking very often. But on one occasion in 1990 she described the scene of one of her classic parties, whose guests included the Motown stars Kim Weston and Martha Reeves. Kim arrived at the door in an expensive fur coat, but "the party had really disintegrated by then, and she trod on a sardine or something and went flying. She was a good sport. So were Martha and the Vandellas: first they hid because they thought they'd get coleslaw in their wigs, but they came out swinging!" They apparently seized some French loaves and used them as pretend baseball bats. "They were hiding behind chairs… Martha was the first one out with a French loaf, and she started batting at things."
Dusty probably had very understanding and indulgent cleaners. Her peculiar personality flaw doesn't take away the fact that she was a great entertainer, an outstanding interpreter of songs, and a tireless promoter of music made by under-appreciated and poorly funded black artists. You'd just never ask her to pass the lasagne. ♦
© 2021 Tony Barrell
Tony Barrell's acclaimed new book, Beatlemania, is available across the world.