These days, pop stars send emails and use social media. But the Beatles sent each other postcards — and now Ringo Starr has published the words of wisdom that fell through his letterbox
THE SUNDAY TIMES (COVER STORY), 2004
Shortly before his death, asked by Playboy about the meanings of his lyrics – as if a nudie mag really gave a damn – John Lennon used an analogy. Writing and recording songs, he said, was like "sending postcards", giving people a brief, snapshot insight into his life at a specific moment. What the ex-Beatle didn't reveal is that he was a prolific sender of real postcards, too. They usually didn't say a great deal – they were the mobile-phone text messages of their day – but it was the thought that counted. Holidaying in Japan with his wife Yoko Ono and their baby Sean in 1977, Lennon sent a card to his Aunt Mimi, the woman who had raised him, saying only: "Mimi, Are up in the mountains, really very nice."
Ringo happened to mention that he loved postcards, and he was soon on the receiving end of sackfuls of holiday correspondence
He wrote a lot of postcards to Ringo Starr. He sent them during the 1960s, when they were both part of the world's greatest pop band, and during the 1970s, after business wrangles had torn the band apart. Starr was also the serial recipient of cards from his old friends Paul McCartney and George Harrison. He'd happened to mention that he loved postcards – and, just as audiences threw volleys of sweets after they heard George was partial to jelly babies, the drummer was soon on the receiving end of sackfuls of holiday correspondence. John, Paul and George enjoyed shopping for postcards (as the photograph below confirms), and they loved sending them to Ringo.
Discovering a stack of these postcards in a box recently, Ringo had an idea. You can imagine him, perhaps in his Yellow Submarine cartoon persona, poring nostalgically over the cards and saying: "Aha! Why don't I publish all of these lovely cards from John and Paul and George in a book to raise money for charity? I could call it Postcards from the Boys."
Cynics will say that shelves all over the world are already collapsing with the weight of Beatles books. They will argue that after the release of the band's gargantuan Anthology project, and the recent reworking of the Let It Be album, the Beatles barrel has been scraped clean; that there can't be anything left to say. But Postcards from the Boys, published in a beautiful limited edition by Genesis Publications, will delight Fab Four connoisseurs and send writers scurrying to revise their biographies.
Puzzled by an undated card from Lennon, stamped 'Marrakech', I trawled the internet to find that this was a spontaneous holiday in January 1968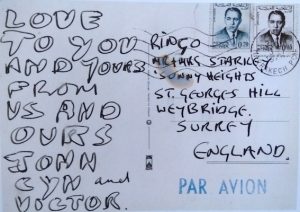 The gems include a card sent by Paul and postmarked "31 Jan 1969" (the day after the Beatles' legendary final concert on that Savile Row rooftop), saying: "You are the greatest drummer in the world"; and a late-1970s card from John in which he advises Ringo to make "great & simple" disco-pop like Blondie's 'Heart of Glass'.
One intriguing card was sent to Ringo and his wife Maureen by "Paul & Jane" from India in 1968, after the Starkeys had returned early from the band's spiritual holiday with the Maharishi. It includes details of the weather, the mosquitoes and the amount of meditation people had done (see below), but it clearly isn't written by Paul: it's in the tidy feminine handwriting of Paul's girlfriend Jane Asher.
Ringo doesn't have a lot to say about many of the cards – he once said: "I've got photographs of me playing all over the world, but I've absolutely no memory of it" – but they are ripe for DIY research. Puzzled by the undated card stamped "Marrakech", from "John Cyn and Victor" (pictured above), I trawled the internet to find that this was a spontaneous holiday in January 1968, sparked by a priceless remark from John to his friend, the actor Victor Spinetti, on an icy day in London: "'Ey, Vic, let's go somewhere warm." It wasn't long before they were all off to the airport – Victor with John and his then wife, Cynthia – and headed for Morocco. "Love to you and yours from us and ours," said the colourful card that dropped through Ringo's letterbox shortly afterwards. ♦
John, Paul and George enjoyed shopping for postcards, and loved sending them to Ringo
© 2014 Tony Barrell
Tony Barrell's acclaimed new book, Beatlemania, is available across the world.