Tony Barrell explains how his new book, 'The Beatles on the Roof', came together after a strange experience on the island of Madeira
NOVEMBER 2017
For many years, I had wanted to find out more about the Beatles' legendary rooftop concert. I had found tantalising facts and details in various places, but I'd never read an account of the event that fully satisfied me. Then, towards the end of 2015, I hit on the idea of writing a whole book about it. The audaciousness of the idea amused me – writing tens of thousands of words about a concert that lasted just 42 minutes (and wasn't really a concert). So I set to work, looking in the darkest and dustiest crannies for nuggets of information, and contacting as many people as I could find who were there on that sacred lunchtime of January 30, 1969.
Starting a book can be hell, and so it proved in this case. After weeks of rummaging through mountains of yellow newspapers and sending email after email to witnesses and participants, I started to lose my nerve. The sensible part of me started asking the silly part: "Are you sure about this? A whole book about the rooftop gig? Are you mad?"
Eventually, as I struggled with the research and waited in vain for emails to come back, Sensible Tony won over Silly Tony, and I shelved the project. I would do something else instead, I decided: a book about celebrity UFO sightings, or the world's greatest bass players. Anything to stop me going completely mad. At Christmas, I flew off to Madeira for a holiday; I certainly needed one.
The streets sparkle with millions of electric lights and are decorated with lifesized, over-the-top Nativity scenes
Madeira is a lovely island – a little semi-tropical chunk of rock in the Atlantic Ocean, north of the Canary Islands and a few hundred miles from the west coast of Africa. And it's especially magical at Christmas, when the streets of the capital, Funchal, sparkle with millions of electric lights (no exaggeration) and are decorated with lifesized, over-the-top Nativity scenes. (And Madeira has only a tenuous Beatles connection: in 1966 the Fab Four bought a luxury yacht here, which subsequently became a bar and restaurant before being carted away.) The island was the perfect place for me to unwind, clear my head and forget all about my stupid rooftop project.
Towards the end of the holiday, which was also nearly the end of 2015, I suddenly discovered an older part of Funchal that I hadn't seen, which had quite a party atmosphere. And as I was walking in the Largo do Corpo Santo (Portuguese for "the Square of the Holy Body"), I became aware of some loud music. There was a pub called Banana's (pictured below), which had its windows wide open on this balmy evening, and blaring from the pub was a familiar sound that stopped me in my tracks.
The pub was blasting out a recording of the Beatles playing on the roof of 3 Savile Row on January 30, 1969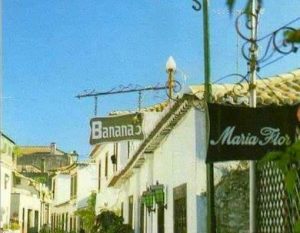 Up to this point, the songs I'd heard on the island had been either traditional Portuguese ditties or well-known seasonal hits, like Wham!'s 'Last Christmas' or Slade's 'Merry Xmas Everybody'. But Banana's was blasting out a recording of the Beatles playing 'Dig a Pony' on the roof of 3 Savile Row on January 30, 1969.
I love 'Dig a Pony'. It might actually be my favourite song from the rooftop concert. I certainly like it better than 'One after 909'. I love the feel of the song, and John Lennon's nonsense lyrics, and the fluid guitar solo that George Harrison played with his freezing fingers. And as I stood transfixed in this pretty square, with hundreds of multicoloured lightbulbs shining down on me, I focused on one particular line: "You can celebrate anything you want."
What a fantastic message that was. Shivers shot up my spine as I took the words entirely personally: yes, Silly Tony, you can celebrate anything you want. You can celebrate the rooftop concert. You can write that book!
That moment in Madeira changed me. Back home, I resumed my rooftop project with renewed vigour
I do have a healthy scepticism that kicks in at times like this. It was simply coincidence that Banana's decided to play this song as I entered the square, wasn't it? Of course it was. The world contains countless millions of Beatles fans, and probably at least one of them worked at Banana's. I'm certainly not going to be so gullible and deluded as to claim that this was the ghost of John Lennon singing directly to me.
And yet… And yet… Despite all of that sensible thinking, I was too superstitious to enter the pub and ask why they were playing rooftop music: it might have destroyed the magic. And that magical moment in Madeira did change me. When I returned home, I resumed my rooftop project with renewed vigour and excitement. I was inspired again. And with the inspiration came the lucky breaks: the new discoveries, and the unexpected replies from Savile Row people. Suddenly the book, a celebration of an extraordinary day in our cultural history, developed a life of its own. And I was ecstatic when, in 2017, it became the first book ever published about the Beatles' rooftop concert.
I'm going back to Madeira very soon. Who knows what it will inspire me to do next time? It's one of the places I'll remember all my life. ♦
© 2017 Tony Barrell
The Beatles on the Roof, by Tony Barrell, is out now in the UK.

You can buy it at Waterstones HERE – or at Amazon HERE.
You can buy it from Amazon in Australia here.
It's officially out in North America now too! Try an online bookstore or eBay.
And you can read more about the book here.