It's the unforgettable car that helped the Sixties swing, and it has been having great adventures ever since. Tony Barrell celebrates the Mini

THE SUNDAY TIMES, 2008
Lesley Hornby is listening to a hit record by Harry Webb on Radio 247, as she zips around town in her shiny new Austin Newmarket. It's a perfect imaginary scene from the 1960s, but what's wrong with it?
Well, it's the names. The model and the singer were really called Lesley Hornby and Harry Webb, but everyone knows them as Twiggy and Cliff Richard; and just as Radio 1 was nearly called Radio 247, "Austin Newmarket" was an early attempt at naming the design classic that we know today as the Mini.
"Newmarket" would have been appropriate in a way: the launch of this much-loved little runabout was a bit of a gamble. As the price of petrol soared following the Suez crisis in the austere 1950s, motor companies were scurrying about, trying to be the first to create an affordable small car for the masses. The man who got there first was a British immigrant and a technological genius, Alexander Arnold Constantine Issigonis. Born in 1906 to a Greek family in the Ottoman empire, Alec Issigonis conceived the Mini while he was deputy technical director at the British Motor Corporation's Austin plant in Longbridge. By using a basic rectangular box shape, 10ft long by 4ft wide, turning the four-cylinder engine sideways and mounting the gearbox underneath it, he created a machine that was almost as paradoxical as Doctor Who's Tardis: although it weighed less than 1,400lb and you could park it in a tight space, there was still enough room for a whole rock band inside.
The Beatles had a Mini apiece, and Ringo Starr customised his as a hatchback so he could carry his drums
In 1958, BMC's chairman, Leonard Lord, drove a prototype Mini and gave the thumbs-up for its mass production. It was officially launched on August 26 in 1959, the same year as the arrival of the hovercraft and the Barbie doll, and perfectly in time to become a megastar of the 20th century's brightest  decade. The Swinging Sixties simply wouldn't have swung half as well without it. The Beatles had a Mini apiece, and Ringo Starr customised his as a hatchback so he could carry his drums. Peter Sellers bought Minis as trinkets for a succession of girlfriends, and had one fitted with eye-catching wickerwork side panels. And it received the ultimate accolade when the Queen consented to be driven around Windsor Park in a Mini.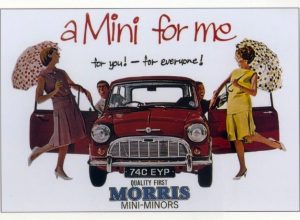 This "people's car" was as cute, compact and classy as Audrey Hepburn, and it soon became a movie star in its own right. In The Italian Job (1969), three Mini Cooper S models tear round Turin in a scene that has been voted the best car chase in cinema history. In 1994 it was Hugh Grant's choice of wheels as he raced to the first splicing in Four Weddings and a Funeral. In the 1960s, souped-up Minis also became a sporting fixture on the rally circuit, driven hard by serious racers like Paddy Hopkirk and Timo Makinen.
Bryan Ferry had a significant encounter with a Mini, which he recalled on Roxy Music's debut album
Before he was famous, the singer Bryan Ferry had a significant encounter with a Mini, which he recalled in 'Re-make/Re-model', the first track on Roxy Music's debut album in 1972. The song's lyric includes the car's registration number, CPL 593H. Ferry later explained: "It was a very cool Mini that I saw at the Reading Festival. I went with a friend, and I was very attracted to this girl backstage who was wearing a fluffy jacket. Anyway, I then saw her when we were driving home in the terrible slow queue to get out of the site, and she was in the car in front. And I memorised the number of the car. So it was a kind of cry in the wild… I never met her."
One of the most extravagant Mini paint jobs was done for The Sunday Times Magazine in 1965. After discarding the idea of painting a little Mini from Hamley's toy shop, the British artist Alan Aldridge, a '60s icon himself, decided to hire a real car, which he whitewashed before attacking it with over 100 tubes of gouache and six cans of silver spray paint. The result (pictured below) showed a Mini with a split personality, driven by two very different characters: a boy racer and a housewife. "The Mini was the first car to be viewed by women as part of the family, as something for running the kids around and for shopping," explained Aldridge several decades later. "And for a guy it was a little hot rod for attracting the chicks and zooming up the road in, like a racing driver."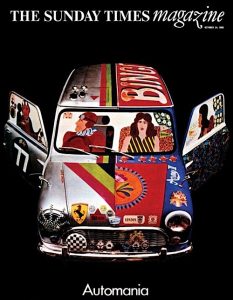 Aldridge had just two days to do the paint job before the car was photographed; then he spent hours washing off all his hard work prior to the Mini's return to the hire company. He subsequently received an offer of £800 from an art collector for the work, which he had to decline as it no longer existed.
In 2008, to celebrate the 50th anniversary of the Mini and coincide with a retrospective exhibition of his work, Aldridge repeated the feat (see below). This time, because he wanted a more elaborate effect, the Mini was professionally wrapped in an enormous vinyl sheet, the creation of which necessitated a long string of processes. "First everything was hand-drawn using Japanese pens on vellum," said Aldridge. "Then it was scanned and put together using Photoshop. It took three weeks."
And this was a very different car from the Austin Mini he hired all those years ago. In 2000 the Rover company halted production at Longbridge, and BMW launched an entirely new version of the car. "In 1965 I hand-painted it, so I could immediately see where all the curves were," said Aldridge. "But this time I was sent blueprints, and I had to imagine the curves as I made the artwork."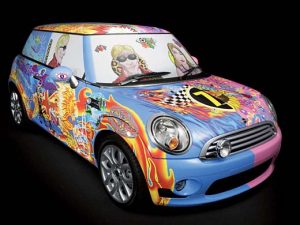 Though the Mini has changed in all manner of ways since it was conceived in the late 1950s, the British obsession with the car goes on. "It's still one of the best design icons you could wish to own," said Dave Hollis, leader of the British Mini Club. "Minis are instantly recognisable, and young kids are still interested in them."
There was blood all over the wrecked roof of the Mini. A meteorite had hit a Canada goose in flight
Minis and their adventures are still making the news, as well. Fiona Mannion has been a Mini enthusiast for decades, and in 2008 owned two classic Minis and a special edition of the BMW version. Early that year, she heard an enormous crash outside her house in Elstree. "I went outside and there was blood all over the wrecked roof of the new Mini," she recalled later. It turned out to be a one-in-a-million, out-of-this-world event: a meteorite had hit a Canada goose in flight, which had plummeted down and caused £2,500 worth of damage. "The goose was still alive. We called the RSPCA, but by the time they came a fox had carried it off. Thank goodness it was the new Mini and not one of my old classics, which would've been much harder to repair."  ♦
© 2014 Tony Barrell
Tony Barrell has been published by HarperCollins, Omnibus Press, ACC Art Books, Iconic Images and Godknowswhoelse. This article won him a Golden Newspaper Award, but he doesn't drive.